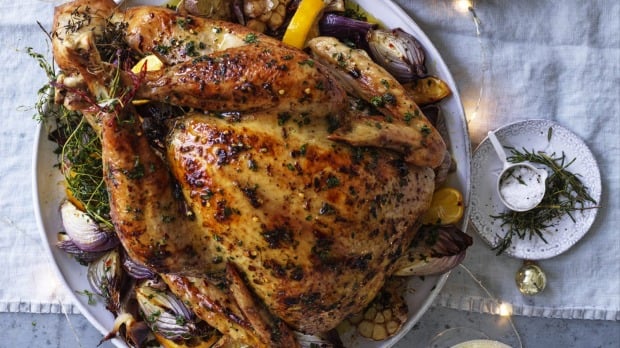 Lemon, Garlic and Herb Dry-Brined Turkey
Dry-brining is a foolproof method that gives you tender, flavorful turkey every time. This recipe, infused with the flavors of garlic, lemon and thyme, is guaranteed to get raves as the centerpiece on your holiday table.
Ingredients :
Turkey
3 tablespoons kosher salt
5 cloves garlic, very finely chopped
1 tablespoon chopped fresh thyme leaves
1 teaspoon finely grated fresh lemon peel
1 whole turkey, not prebasted (11 to 13 lb), thawed if frozen
4 tablespoons butter, melted
Gravy
1/4 cup turkey drippings (fat and juices from roasted turkey)
1/4 cup Gold Medal™ all-purpose flour
1/2 teaspoon pepper
2 cups Progresso™ unsalted chicken broth (from 32-oz carton)
Steps
1
In small bowl, mix salt, garlic, thyme and lemon peel. Place turkey on rack in large roasting pan. Rub turkey inside and out with salt mixture. Cover with plastic wrap; refrigerate 24 hours. Stand up turkey to pour out any collected liquid in cavity. Pour off liquid collected in pan; return to refrigerator uncovered 12 to 24 hours longer.
2
Heat oven to 325°F. Pat skin and interior cavity dry with paper towels. Fasten neck skin to back of turkey with skewer. Fold wings across back of turkey so tips are touching.
3
Place turkey, breast side down, on rack in large roasting pan. Brush entire back side of turkey with 2 tablespoons of the melted butter. Turn turkey over. Brush entire breast side of turkey with remaining 2 tablespoons melted butter. Insert ovenproof meat thermometer so tip is in thickest part of inside thigh and does not touch bone.
4
Roast uncovered 3 hours to 3 hours 30 minutes, brushing twice with pan drippings during last 30 minutes of roasting. Turkey is done when thermometer reads 165°F and drumsticks move easily when lifted or twisted. If meat thermometer is not used, begin testing for doneness after about 3 hours. When turkey is done, place on warm platter; cover with foil to keep warm. Let stand about 15 minutes for easiest carving.
5
While turkey rests, pour drippings from roasting pan into bowl, leaving brown particles in pan. Return 1/4 cup drippings to roasting pan; discard remaining drippings. Stir in flour and pepper.
6
Cook over medium heat 1 to 3 minutes, stirring constantly, until mixture is smooth and bubbly. Cook 1 minute longer, then stir in broth. Heat to boiling, stirring constantly. Boil and stir 1 to 3 minutes or until thickened.
Tips from the Betty Crocker Kitchens
tip 1
Measure pan drippings accurately because too little fat makes gravy lumpy. Also using too much of the drippings will make gravy greasy.
tip 2
If your roasting pan, rack and turkey won't fit easily in your refrigerator, you can place the turkey on a rack on a smaller sheet pan.
Enjoy !!!