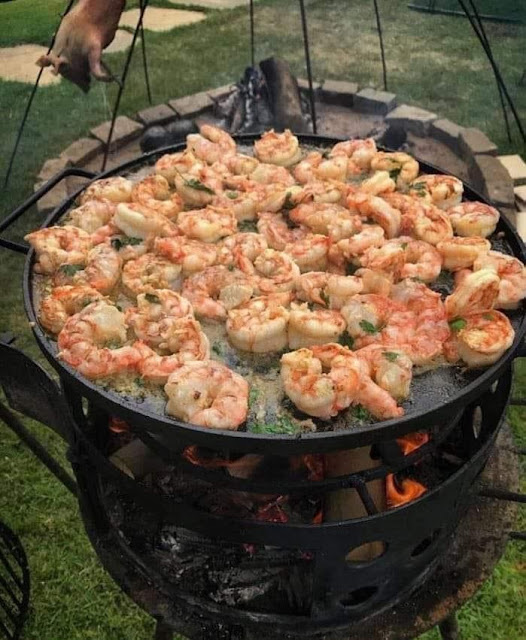 Lemon Butter Baked Shrimp
These garlic and lemon prawns are so delicious, you have to watch your fingers! Recipe could not be simpler, very quick (15 minutes), and with a minimum of ingredients. Yummy with pasta, rice, mashed vegetables, bread.
* Ingredients :
° 500 g of raw shrimp, medium or large, peeled, deveined with or without tail (in the photos, I used 1 kg of medium shrimp)
° 4 garlic cloves, chopped
° 1 pinch of paprika (optional)
° Salt and pepper to taste
° 2 tsp olive oil
° 2 tsp butter
° Juice of 1 lemon (2 tbsp), see note 2
° 1 tsp chopped flat-leaf parsley (optional)
* Methods  :
Rinse your shrimp in cold water and pat them dry, patting them with paper towels.
In  skillet, heat oil.
Sauté the shrimp over high heat, 1 minute per side, until they turn pink (1.5 minutes if the shrimp are large).Do not cooking them about long time, otherwise they will become hard & dried Salt // pepper to flavor halfway through cook, mix.
Remove the shrimp and set them aside on a warm plate, covere
Note: If your pan is small, or if you are using a lot of shrimp, do this several times. Do not fill the pan with shrimp.
Adding garlic, pinch paprika if use it, and butter to pan. Let to cooking about 2 min while stir .
Be careful not to burn the garlic, it will taste bitter.
Add the parsley if using it, then the lemon juice. Mix.
Return the shrimp to the pan. Heat and stir quickly to soak the shrimp in the sauce. Enjoy your lunch!
Serve with pasta, rice, mashed potatoes (or mashed cauliflower), or just bread.
Enjoy !