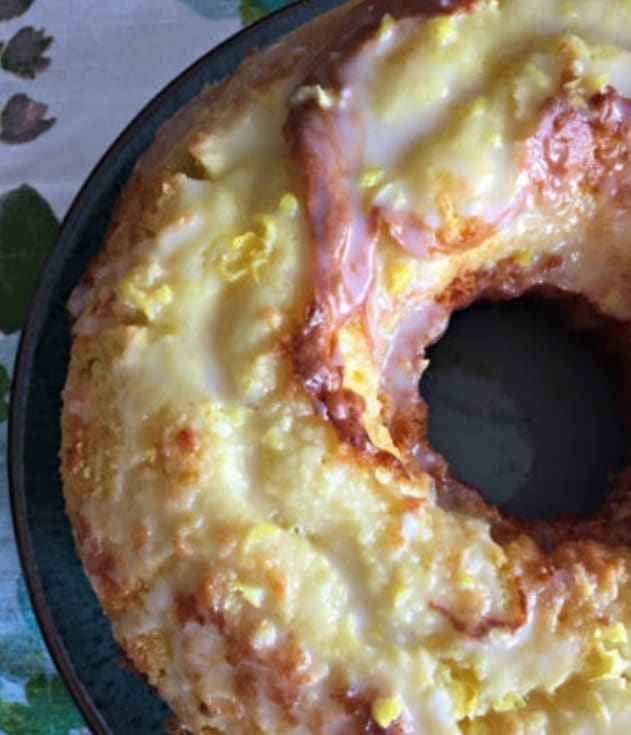 It's a big, hospitable cake — at least 16 good-sized golden wedges when you bake it as we did, in a 10-inch Bundt pan, large ring mold or an angel food pan.
The crust looks so beautiful, we couldn't bear to cover it with frosting. But we wouldn't dare omit the recipe for Mrs Johnson's lemon icing!
This beautiful Lemon Cake will be the star of your desserts! Oh…..Ms. Lady Bird….you out did yourself on this one! A Lemony Delight…….
Ingredients
3/4 Cup Softened Butter
1 1/4 Cups Sugar
8 Egg Yolks
2 1/2 Cups Flour
3 Teaspoons Baking Powder
1/4 Teaspoon Salt
3/4 Cup Milk
1 Teaspoon Vanilla Extract
2 t. lemon juice
1 Teaspoon Grated Lemon Rind
LEMON GLAZE
2 cups powdered sugar
1-2 T. fresh lemon juice
1-2 t. buttermilk
Zest of one fresh lemon
Directions
Preheat your oven to 325° F. Cream the butter and sugar until fluffy. In a separate bowl, beat the egg yolks until light and lemon colored. Blend into the creamed mixture. Sift together the flour, baking powder and salt. Resift 3 times. Add the sifted ingredients to the creamed mixture in thirds, alternating with the milk. Beat the batter thoroughly after each addition. Add the vanilla extract, lemon rind and lemon juice. Beat for 2 minutes. Bake in a greased Bundt pan in the oven for 1 hour or until the cake tester inserted in the center comes out clean. Remove from the oven and cool 19 minutes before inverting on serving platter.