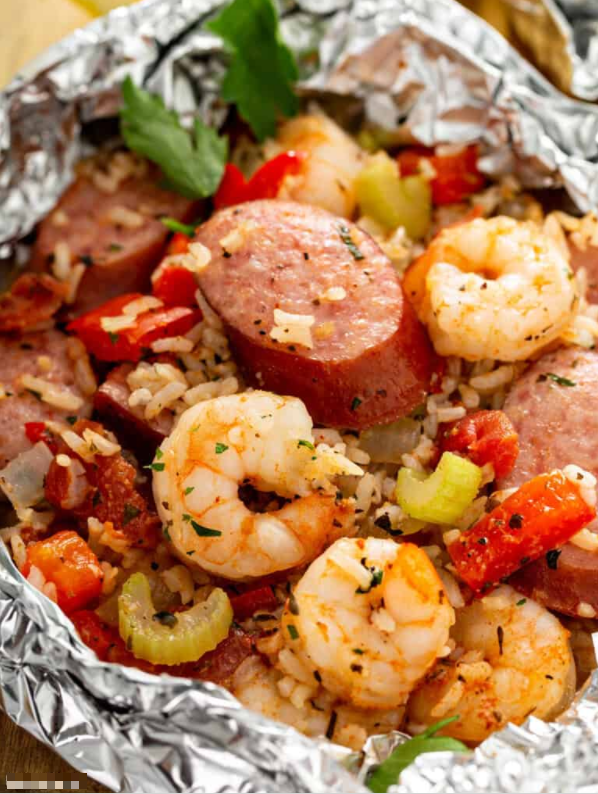 Equipment
Heavy Duty Foil
Nonstick Cooking Spray
Ingredients
14 ounce package kielbasa smoked sausage , sliced into 1/2-inch thick coins
1/2 pound shrimp (31-40 count) , peeled and deveined, tails off (thawed if frozen)
1/4 cup olive oil
15 ounce can petite diced tomatoes with garlic and oregano , drained
1 medium sweet onion , chopped
1 medium red bell pepper , chopped
2 ribs celery , chopped
2 cloves garlic , minced
1 1/2 teaspoons cajun seasoning
2 tablespoons finely chopped fresh parsley
Kosher salt and pepper , to taste
1 cup Instant rice (Minute® rice)
1 cup low-sodium chicken broth

Instructions
Preheat grill OR oven to 400 degrees F.
Cut 5 large sheets of heavy duty foil (about 12-inches wide by 17-inches long.) Coat foil generously with nonstick cooking spray. (Don't skip the spray or the food will stick to the foil.)
In a large bowl, toss together all the ingredients.
Divide mixture evenly into 5 equal portions and add to the center of each sheet of foil. (This comes out to a heaping 1 1/2 cups per packet.)
To seal the foil packet, bring the short sides together in the middle and gently fold down over the ingredients, leaving a little space for steam. Then roll up the ends to seal closed.
Place in the oven (on a sheet pan) or on the grill for 25-30 minutes, until shrimp is pink, rice is cooked through, and veggies are tender. (Test only 1 packet at a time; every time the packets are opened, the steam is released so it will take longer to cook.) If grilling, flip packets halfway through cook time.
Carefully open the foil pack, expecting hot steam to be released. Let cool slightly and enjoy.
NOTE: You must use Instant rice (Minute® rice) in order for these packs to turn out. For important recipe tips and possible variations, please refer to the full article.
CAMPFIRE: To make these over a hot coals campfire, it can take anywhere from 20-40 minutes depending on how hot the coals are. Flip halfway through cook time.
Nutrition
Calories: 502kcal | Carbohydrates: 27g | Protein: 23g | Fat: 33g | Saturated Fat: 9g | Polyunsaturated Fat: 4g | Monounsaturated Fat: 18g | Cholesterol: 171mg | Sodium: 871mg | Potassium: 590mg | Fiber: 3g | Sugar: 7g | Vitamin A: 1348IU | Vitamin C: 46mg | Calcium: 131mg | Iron: 4mgNutritional information given is an automatic calculation and can vary based on the exact products you use and any changes you make to the recipe. If these numbers are very important to you, I would recommend calculating them yourself.
Other Notes
Course: Main CourseCuisine: AmericanKeyword: Foil packet dinner, jambalaya foil packet