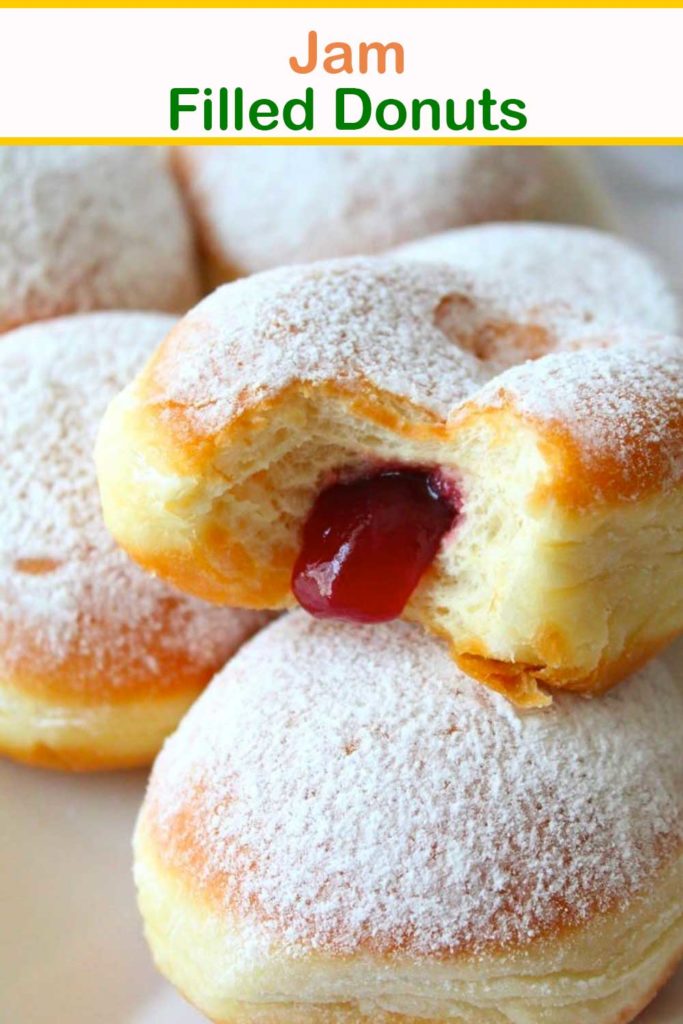 4 to 4 and 1/2 cups of flour
1/2 teaspoon of salt
2 and 1/2 teaspoons of dry active yeast
1 cup of lukewarm milk
2 tablespoons of sugar
2 large eggs, beaten
2 tablespoons of unsalted butter, melted and cooled
strawberry jam (or jam of your choice)
vegetable oil, for frying
powdered sugar, for dusting
Directions:
In a mixing bowl, combine the flour and salt. In a measuring jug, mix the yeast with two tablespoons of milk and two tablespoons of sugar and let it sit until foamy, about five to ten minutes. Add this to the flour and salt with the remaining milk.
Add the eggs and butter to this mixture and mix into a soft, but not sticky, dough. Add a little extra milk if needed, one tablespoon at a time, or work in extra flour if needed, one tablespoon at a time.
Turn the dough out onto a lightly floured surface and knead until smooth and elastic. Transfer the dough to a lightly oiled bowl, cover and let rise until doubled in size, about two hours.
Turn the dough onto a floured surface. Knead for a minute. Roll out the dough to two centimeters thick and cut out rounds.
Place the doughnuts onto a lightly floured baking sheets. Cover with a dry tea towel and leave it to rise once more in a warm spot for thirty minutes.
Fry with vegetable oil until golden and puffed, turning frequently. Place on a paper towel lined plate. Let cool slightly. Fill a pastry bag with jam and fill doughnuts. Dust with powdered sugar and serve.