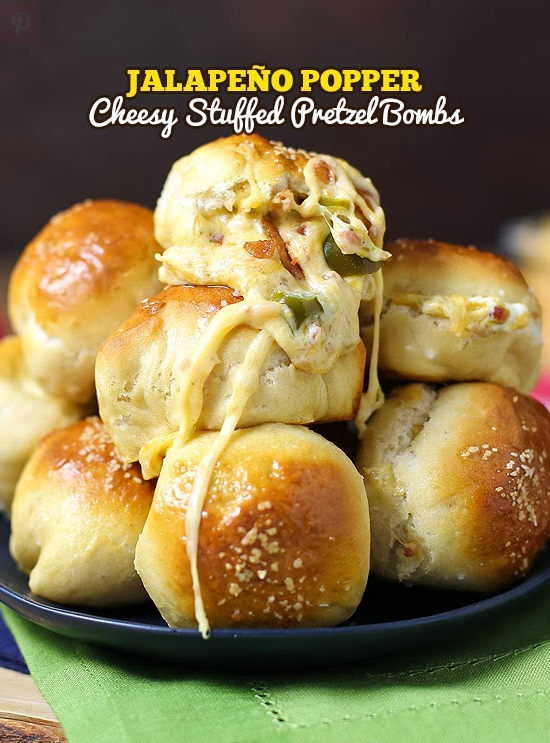 INGREDIENTS
12 ounces warm beer (110°-120°), I used Blue Moon *see cooks note
2¼ teaspoons active dry yeast (1 packet)
2 tablespoons granulated sugar
12 ounces bacon, cooked and chopped into bite size pieces
8 ounces cream cheese
8 ounces shredded Mexican cheese blend (or cheddar cheese)
1 (4 ounce) can diced jalapeños
1 large egg
3 1/2 cups all-purpose flour + more for dusting counter
1 teaspoon kosher salt + more for pretzel tops
2 tablespoons baking soda
2 cups water
INSTRUCTIONS
Preheat oven to 450°F.
Pour beer into the bowl of a stand mixer fitted with a dough hook (see notes if you do not have a stand mixer), sprinkle yeast over top, add sugar and stir.  Allow yeast to bloom for 5-10 minutes.  Once it is nice and foamy, it is ready. *It should look like the 'head' of a beer poured too quickly and smell yeasty.
Meanwhile in a medium mixing bowl combine cheeses, bacon and jalapeños.  Mix together.  You may need to use a wood spoon to get it well mixed.
In a small bowl beat egg, set aside.  Sprinkle clean counter top with ¼ cup flour.  Line a baking sheet with parchment paper or spray with cooking spray.  Set aside.
Add flour and salt to stand mixer.  Knead for 3- 5 minutes until the dough comes together in one ball.  Add more flour a tablespoon at a time as needed, if bread is too sticky to come together.  Dough should be tacky when you pull it out of the mixer, not sticky.
Place dough on floured counter top and knead in flour until it is no longer tacky, just a minute or two.  Form dough into a ball.  We are going to cut this ball into 36 (somewhat) even pieces.  First quarter the ball of dough. *I used a bench scraper, but a butter knife would work too.  Roll each quarter into a fat log.  Cut that into 3 pieces.  Roll each piece into a log and cut into 3 pieces.  When you are done you will have 36 pieces.
Fill a medium (4 cup) bowl with 2 cups of hot water and add baking soda.  Place baking sheet, baking soda water and cheese mixture on the counter that you are working on.
Roll each dough piece (one at a time) into a ball and then flatten it into a circle.  Add 1 tablespoon of cheese mixture in the center *I used a tablespoon scooper.  Carefully pull each side over the cheese to create a 'cheese package', pinching the edges closed.  Roll the dough into a ball.  Be careful to make sure you can not see the cheese through the dough.  Tap fingers in flour, pinch any tears and roll again.  Set aside and repeat until you have 3 stuffed dough balls.  Transfer 3 stuffed dough balls to hot water mixture and allow to set while you prepare the next 3.  Prepare the next 3 dough balls.  Remove dough balls from water with a slotted spoon and place on prepared baking sheet.  Place 3 newly prepared balls into the water and prepare 3 more.  Repeat until all dough balls are on the cookie sheet.
Arrange all pretzel balls on parchment so they are not touching.  Brush egg wash onto each one and sprinkle with course salt.
Bake for 8-10 minutes until the tops are browned.
The ooey gooey cheese may escape some of your pretzel bombs.  That is a beautiful thing!  Scoop all that cheesy goodness up onto the plate and serve.  Your guests will go crazy over them.
Enjoy!
DONNA'S NOTES
You can mix the dough by hand if you do not have a stand mixer.  Add water (or beer), yeast and sugar to a large bowl.  Once the yeast blooms stir in the salt and the flour.  Mix with a spoon.  Turn dough out onto floured counter top and knead for 3-5 minutes until dough is no longer sticky.  Proceed with remaining instructions.
I microwaved the beer in a glass microwave safe measuring cup, 15 seconds at a time until it was 110-120 degrees.
You can substitute milk or water for the beer.
SHORTCUT: You can use 36 frozen dinner rolls (I use Rhodes) in place of the dough recipe.