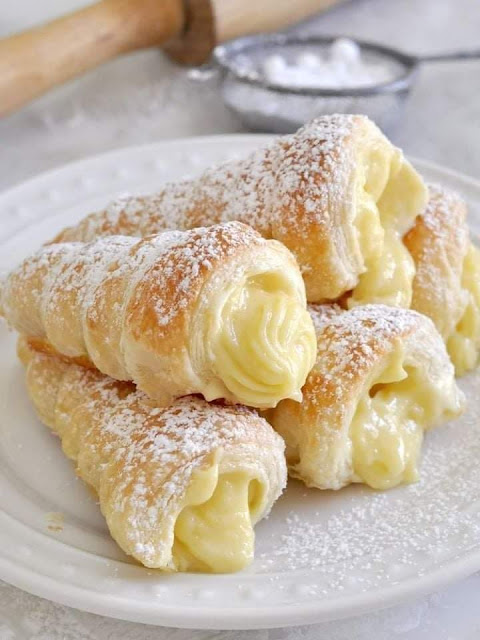 Italian Cream Stuffed Cannoncini Recipe
Cannoncini alla Crema is a standard Piedmontese dessert, exceedingly famous in lots of areas of northern and important Italy. It's smooth to locate Italian pastry store Cannoncini packed with exclusive pastry creams, however the maximum famous filling is truly the Vanilla Pastry Cream.
* Ingredients:
To make the custard cream (Cream Pastesera):
° three egg yolks
° three tablespoons (30 g) all-purpose flour
° 1/2 cup (a hundred g) sugar
° 1 teaspoon vanilla extract
° eight ounces (235 ml) of milk
For the cannon:
° 1 sheet of puff pastry, thawed (approximately eight ounces, 225 grams)
° 1/four cup (50 g) sugar
° 1 egg (for egg wash)
° powdered sugar for garnish
* Preparation:
Begin through making custard cream:
Heat the milk till hot (now no longer boiling).
In a saucepan, whisking egg yolks, sugar, vanilla extract, & flour Until mild also fluffy.Adding a some milk when whipping, take care not to clump.In add, placing pan on heat also continue stirring to it boils.The cream will thick , so be careful not to leave it stick to background.Reduce heat and cooking dinner for another 2 minutes to it reaches the wanted thickness.Pour cream into a glass container, covering with plastic wrapping & let cold .Permit  cool for at least one hour.About dough cone: Preheaat  oven 200°C (400°F).Sprinkle sugar on the table and puff pastry, then roll it into a rectangle about 30 x 30 cm.Cutting 12 strips (about 1 inch thick). An smooth manner to do this: reduce the dough into 3 parts, after which every component into 4 slices.roll every strip to template horn (cone).The dough should overlap (about semi length).
Place on a baking sheet coated with parchment paper with the side (the quit of the strip) dealing with down.Stir eggs with a tsp water.Brushing each cone sweetly with mahsed eggs.
Making to hold eggs from mold.This will making it difficult to removing cone from mold after baking.Bake at 400 degrees Fahrenheit (200 degrees Celsius) for 15-20 minutes until the top is golden brown.Let them cool for a few minutes, then take them out of the pot a little.If the dough sticks to the mold, you can push the mold down a bit (to reduce the circumference) and gently turn in the dough until it pops out.Pour the cream on top before serving.Spread with powder sugar as wanted
  Enjoy!