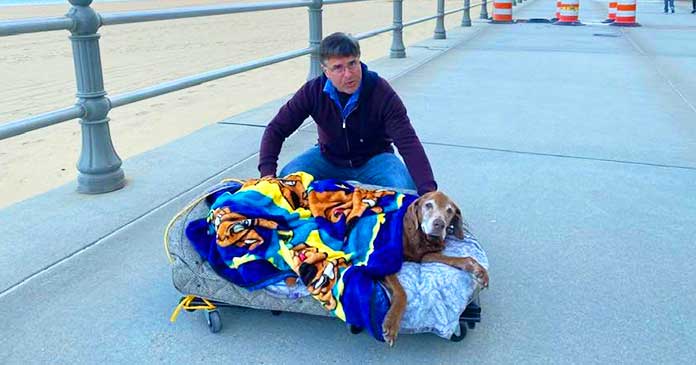 In order to make the dog enjoys his last days of life, family makes a mobile bed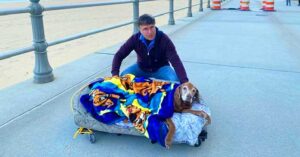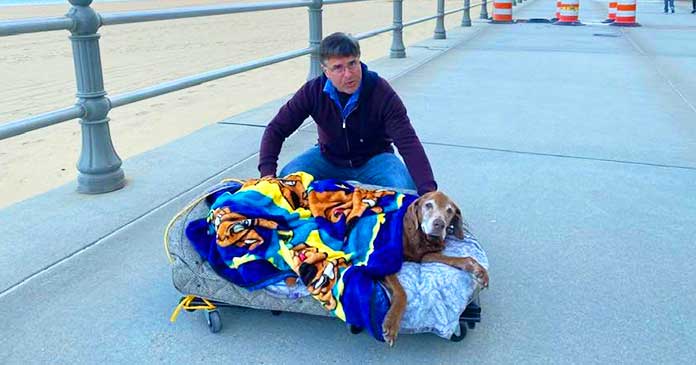 Senior pets go through a lot of age-related issues.  They often slow down and they need the extra love and care from the owner. It is always good to know what people could do to make them feel special and to make their life comfortable.
Many people arrange different things to make the senior dogs enjoy their life and to have the best moments of their life. Now a very clever and smart family who created a unique way to help their dog to get around in comfort and style.
Here is the story of a Chesapeake Bay retriever named Cocoa who lives in Georgia with her owner Tom Antonino. Though earlier she was a very energetic dog yet now she has started showing the age signs. When she turned 16 – she found it difficult to walk and missed going to her favorite places like the dog park and the beach.
In order to cope up with this problem, her family came with a great idea and that was to make a mobile bed for her to able to experience the world.
The mobile bed is made by Tom and his wife from scratch and it required very creative engineering. It helps the family to take their old dog to his favorite place while she is still resting.
They had a rope to pull the bed and this idea soon gained widespread attention. The people are easily moved when they see Cocoa out and about in Virginia Beach.
One such person was Carrie who took to her Facebook to share this story by writing that she had to stop and express her love for this extraordinary care and love.
Though Tom is not on Facebook still he felt that people understand that we share a deep bond with our pets and that is the reason they liked this idea so much.
It is sad to know that Cocoa had passed now but thanks to her caring parents her life was made very easy and comfortable. She was able to enjoy her life to the fullest.