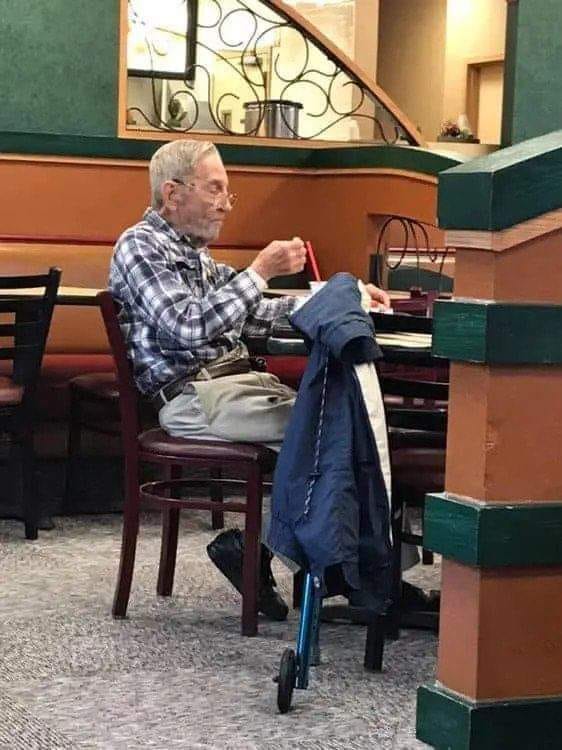 In Chandler, Arizona, Doug is a loyal customer at Arby's restaurant
In Chandler, Arizona, Doug is a loyal customer at Arby's restaurant. Actually, he's the most loyal customer they have there. Doug is a 97-year-old World War II veteran, and has long loved the famous roast beef sandwiches on which the chain has built its reputation. Doug comes in every single day to enjoy a meal with his favorite sandwich. He almost always orders a Swiss cheese filled roast beef slider and a Coke with no ice. All the staff members there have memorized that as his "usual." After quite a while, one of the employees, Travis Coye, wanted to know more about this elderly man, and why he had such a fascination with the food they serve there. So he asked him why he keeps coming there; why that location? Doug replied, saying: "This is the only place I can get a sandwich or get anything else to eat that doesn't hurt my stomach." Actually, it may be closer to the truth that he likes the sandwich so much that he stopped looking for alternatives. Doug lives in a nearby retirement home, but always makes sure to get his daily meal at Arby's. And he has his own favorite table where he enjoys it. The staff there treats him as much like family as possible and staff members go out of their way to make him comfortable. Says the manager there, Christina Gamage: "He comes in with a walker, as soon as we see him come to the doors, we try [to] grab the doors for him. He's gone through a lot being a veteran, coming in, being in a retirement home, but he doesn't have family." Doug is such a loyal customer and really good guy that one day the staff pitched in and got him a $200 gift card.
He thought at first they were joking, but it was definitely real, and Doug told them: "Thank you. I never know if I'll be here the next day, but thank you so much for this." But what might be even more important than that… at least, more meaningful… is that many of the staffers gave Doug their phone numbers in case he needed anything. And they all offered to bring him his favorite meal to the retirement home in case he could not make it there. Then, after Doug's story made national news, Arby's gave him another gift… free food for the rest of his life. Now he never has to worry about where his next meal is coming from, giving him more time to make more friendships.