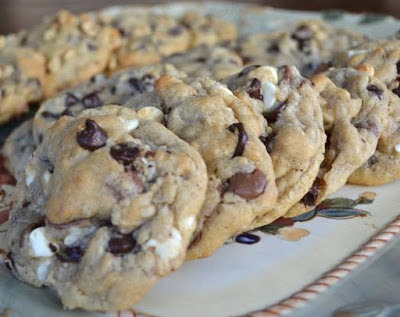 I Want To Marry You Cookies
Ingredients
1 cup butter
1 cup dark brown sugar (may add up to 1/4 cup more if desired)
1⁄2 cup granulated sugar
1 egg
1 egg yolk
1 teaspoon pure vanilla extract
2 cups flour
1 cup uncooked rolled oats
1⁄2 teaspoon baking soda
1⁄2 teaspoon salt
1⁄4 teaspoon ground cinnamon
1 cup white chocolate chips
1 cup chocolate chips (I like dark)
DIRECTIONS
In a medium saucepan, melt the butter over medium heat until melted. Remove from the heat.
Add the dark brown sugar and granulated sugar and stir until sugars are incorporated and smooth. Chill the mixture for 10 minutes.
Remove from the refrigerator and stir in the egg, egg yolk, and vanilla.
Add the flour, oats, baking soda, 1/2 teaspoon salt, and cinnamon and mix together.
Stir in the white chocolate chips and chocolate chips.
Roll by hand into 24 medium-size balls or use a scoop, and place on a light-colored cookie sheet.
Chill for at least 30 minutes.
Preheat the oven to 325 degrees F. Remove the cookies from the refrigerator and bake for 12 to 14 minutes.