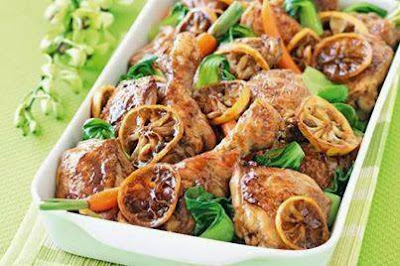 Ingredients
1 tbs olive oil
6 chicken thigh pieces, backbone trimmed
6 chicken drumsticks
80ml (1/3 cup) honey
80ml (1/3 cup) fresh lemon juice
60ml (1/4 cup) kecap manis
1 lemon, very thinly sliced
1 bunch baby (Dutch) carrots, peeled, ends trimmed
1 bunch baby pak choy, halved lengthways
Steamed rice, to serve
Directions
Step 1
Preheat oven to 200°C. Heat the oil in a large frying pan over medium-high heat. Add the chicken thigh pieces and cook for 4-5 minutes each side or until brown. Transfer to a small roasting pan. Repeat with the chicken drumsticks, reheating the frying pan between batches.
Step 2
Whisk the honey, lemon juice and kecap manis in a large jug until well combined.
Step 3
Arrange the lemon slices on and around the chicken. Pour over the honey mixture. Bake, basting with the sauce from the pan halfway through cooking, for 35 minutes or until the chicken is cooked through and the lemon is caramelised.
Step 4
Meanwhile, bring a large saucepan of water to the boil. Add the carrots and cook for 2-3 minutes or until just tender. Add the pak choy and cook for a further 1-2 minutes or until the pak choy just wilts.
Step 5
Transfer the chicken to a serving dish and cover with foil to keep warm. Pour the juices from the roasting pan into a small saucepan and bring to the boil over high heat. Boil for 3-4 minutes or until the sauce thickens slightly.
Step 6
Arrange the carrot and pak choy around the chicken. Serve with the sauce and rice.