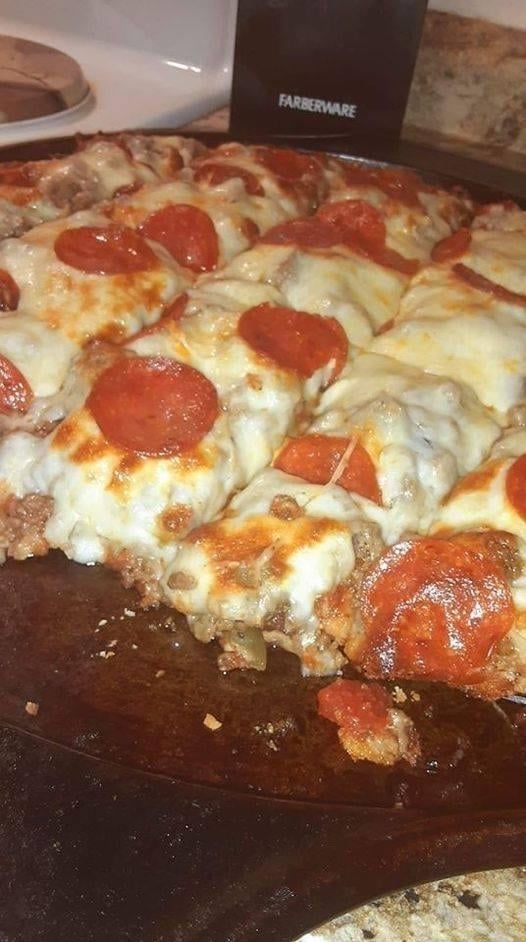 Ingredients
Contadina(R) Quick Pizza Sauce:
½ (12 ounce) can CONTADINA® Tomato Paste
1 teaspoon dried oregano, crushed
1 teaspoon dried basil, crushed
½ teaspoon garlic powder
½ teaspoon onion powder
½ teaspoon sugar
½ teaspoon salt
¼ teaspoon black pepper
Fleischmann's® Easy Pizza Crust:
3 ¼ cups all-purpose flour, or more as needed
2 (.25 ounce) envelopes FLEISCHMANN'S® Pizza Crust Yeast or RapidRise® Yeast
1 tablespoon sugar
1 ½ teaspoons salt
1 ⅓ cups very warm water (120 degrees F to 130 degrees F)
⅓ cup oil
Toppings:
1 (6 ounce) package HORMEL® Pepperoni
1 cup shredded mozzarella cheese, or more to taste
Directions
Instructions Checklist
Step 1
For sauce: Combine all sauce ingredients with 1/2 cup water in a medium bowl; set aside for flavors to develop while making crust. Freeze remaining paste .
Step 2
For crusts: Combine 2 cups of flour with the dry yeast, sugar and salt. Add the water and oil and mix until well blended (about 1 minute). Gradually add enough remaining flour slowly, until a soft, sticky dough ball is formed.
Step 3
Knead for about 4 minutes, on a floured surface, until dough is smooth and elastic. Add more flour, if needed. (If using RapidRise® Yeast, let dough rest, covered, for 10 minutes.)