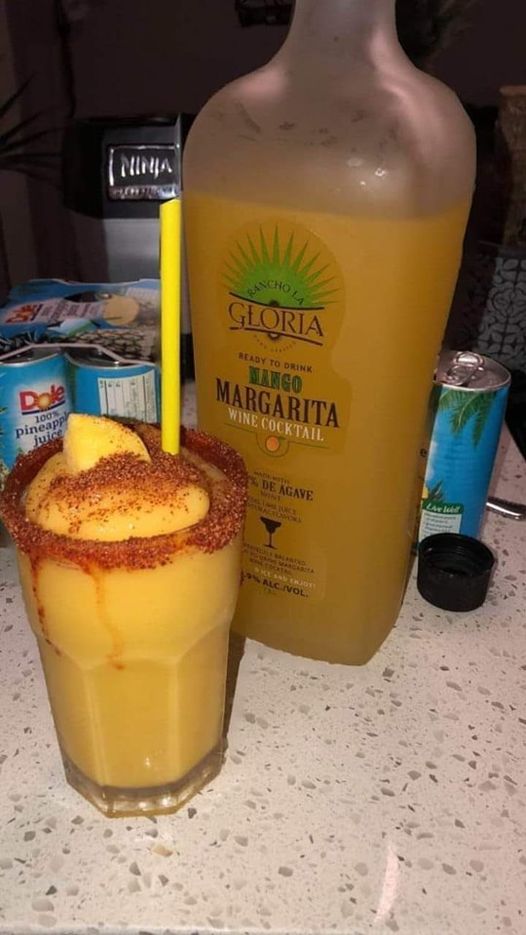 Homemade Mangonadas Margaritas
Ingredients:
2 large limes
1/3 cup (121 grams) Tajín optional
6 ounces (176 milliliters) tequila blanco
3 ounces (88 milliliters) triple sec or Grand Marnier
2 ounces (59 milliliters) cold water
1/4 cup (50 grams) granulated sugar
2 1/2 cups (2 handfuls) ice
Garnish
4 ounces (118 milliliters or 1/2 cup) Chamoy
4 Tamarind-Chile Straws, optional
Directions :
Freeze the Mango Chunks (2 hours ahead)
• Arrange the mango chunks on a silicone-lined sheet pan in single layer. Place the pan, uncovered in the freezer and freeze the fruit until solid, which should take about 2 hours.
Alternatively, you can put the mango into a freezer bag and freeze them until solid for up to two months.
Prepare the Goblets
• Cut one of the limes in half. Cut one of those lime halves into 4 wedges.
Juice the remaining half and the other whole lime to extract 1/3-1/2 cup of lime juice to use in the mangonadas later. Set this juice aside.
• Pour the Tajín onto a salad plate or bowl.
Use one of the lime wedges to wet the rim of the margarita glasses.
Dip the rims into the Tajín to coat it thoroughly. Set both of the glasses aside to dry. Discard the use wedge of lime.
Mix the Mangonadas
• To the carafe of your blender, add the tequila, triple sec, water, and sugar.
Next add the frozen mango chunks and the ice.
• Place the lid on the blender and blend the mixture on high for 30 seconds.
Stop the blender and use a spatula to scrape down the sides of the carafe. Blend again on high for 30-45 seconds. Stop and scrape the blender again. If you find the mangonada is too thick add a tablespoon more tequila or water to the blender.