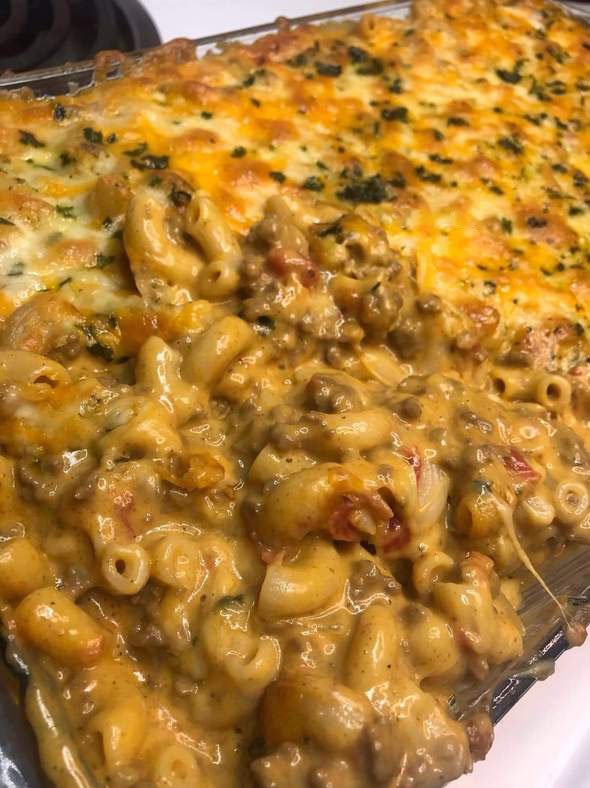 Homemade Hamburger Helper
INGREDIENTS
1 pound ground beef
2 tablespoons tomato paste
1 tablespoon Dijon mustard
1 teaspoon garlic powder
1 teaspoon onion powder
1 teaspoon dried thyme
1 teaspoon salt
½ teaspoon black pepper
½ teaspoon paprika
¼ – ½ teaspoon cayenne pepper
12 ounces dried macaroni noodles
4 cups beef broth or 4 cups water + 4 beef bouillon cubes
1 cup half & half
2 cups shredded sharp cheddar cheese
DIRECTIONS
Place a large sauté pan (with a lid) over medium-high heat. Add the ground beef.
Break the meat into small pieces with a wooden spoon.
As it's browning, mix in the tomato paste, Dijon mustard, garlic powder, onion powder, thyme, salt, pepper, paprika, and cayenne pepper.
Once the beef is fully cooked, add the macaroni noodles, and beef broth. Stir well.
Then cover the pan and simmer for 7-10 minutes, until the pasta is cooked to al dente.
Remove the lid and stir in the half & half and shredded cheese.
Simmer and stir another 2-3 minutes, until the sauce is thick and smooth.
Serve warm.