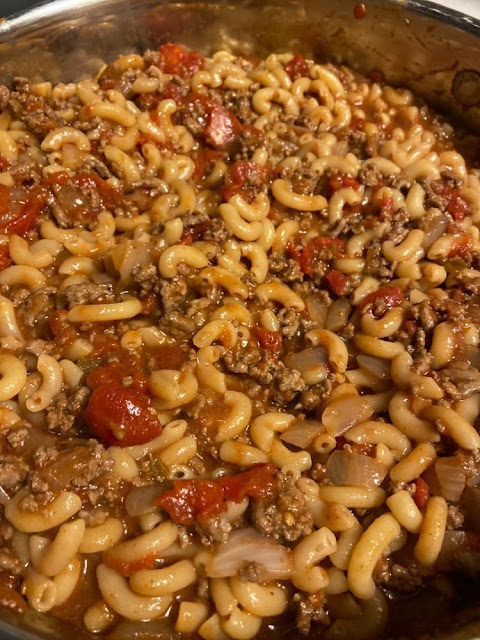 Hungarian goulash is a delicious beef stew (or stew) with a rich paprikarich broth.This delicious dish is both warm and comfortable and is great for colder days.Serve with homemade pasta (or add potatoes) or with bread or crackers to soak up the remaining stock in your bowl.
* How to make it :
(Cook 3/4 of a 1-pound can of elbow macaroni, drain and set aside)
Brown 2 lbs. of minced meat and drained.
When browning meat, add 1/2 tsp salt and 1 tsp. Pepper, 1 large sweet onion (cubes) 1 liter sweet pepper (cubes)
Add 1 can of diced tomatoes and 1 can of stewed tomatoes—both 14.5 ounces. Cans and a small can of tomato sauce.
Then add 24 oz. (a can or jar) of pasta sauce.
Then add: 1 tbsp. Italian seasoning, 1 tbsp. paprika, 2 tbsp. minced garlic, 1 tbsp. chopped basil, 1 tbsp. chili powder, 1 tbsp. soy sauce, 1 tbsp. Worcestershire sauce. Now… Add 3 cups of beef broth. Then toss 2 bay leaves.
(must be removed before eating) Mix all together.
Now add 3/4 box of precooked elbow macaroni and stir together.
Then simmer everything for 15 to 20 minutes.
Then I put it in my CrockPot bowl warm until we're ready to eat it to let all the flavors continue to season.
Note: If it becomes too dry to your liking, just add more beef broth.
Enjoy !