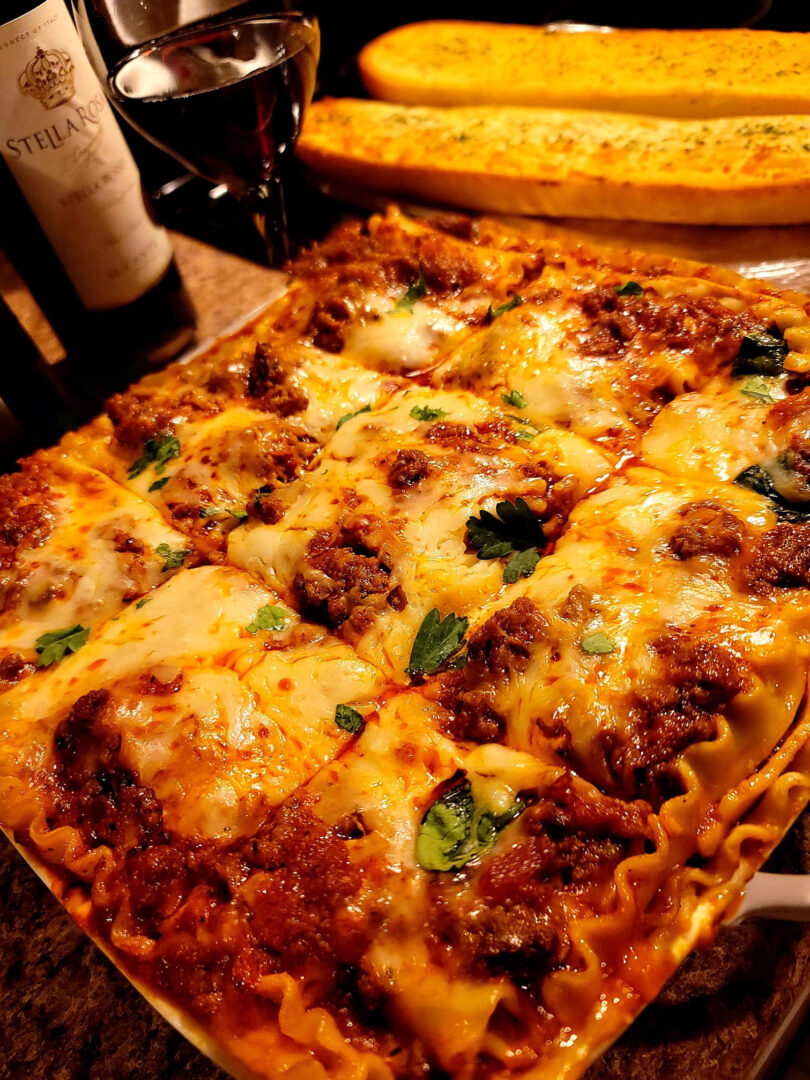 Homemade Four Cheese Lasagna With Italian Sausage And Beefv
INGREDIENTS
1 pound ground beef
5 links mild Italian sausage
1 pound lasagna noodles (about 12)
2 12 oz jars pasta sauce
2 1/2 Tbsp good tomato paste
2 16 oz bags shredded mozzarella cheese
1/2 c. grated Parmesan cheese
1/3 c. grated Romano cheese
2 1/2 c. Ricotta cheese
3 cups spinach
1 beaten egg
1 small onion diced
3 cloves minced garlic
1/4 c. roasted red peppers
1 tsp Italian seasoning
All purpose seasoning blend to taste
Chopped fresh parsley
DIRECTIONS
Preheat oven to 375°
Cook pasta according to package instructions, rinse, and set aside. (Lay them separately on a cookie sheet)
In a heavy saucepan brown the ground beef and Italian sausage (remove from casing and break up with a fork) Mix in onion, red peppers, and garlic. Cook over medium heat until browned well, drain fat off.
Add pasta sauce, tomato paste and season to taste with all-purpose blend. Add Italian seasoning, cover, and simmer on med-low for 30 minutes. (For optimal flavor, cook sauce the day before)
*OPTIONAL I add 1 tsp sugar
While sauce is simmering, in a mixing bowl combine 1 bag of the mozzarella cheese, ricotta cheese, Romano, and Parmesan with a beaten egg, spinach, and parsley
Add 1 c. meat sauce to the bottom of the baking dish, top with lasagna noodles, spoon on cheese mixture. Repeat. Finish with noodles topped with sauce and remaining mozzarella cheese.
Cover and bake for 40 minutes. Uncover and add additional cheese if desired and bake another 10 minutes until lightly golden brown and bubbly.
Allow resting 20 minutes before cutting.
*I did have about a pint of sauce left. Put in the freezer bag for a quick lunch one day!
ENJOY