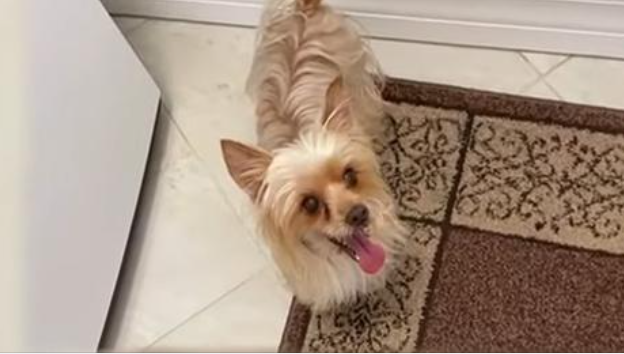 Heroic Yorkie dies after protecting owner from venomous rattlesnake
Dogs are such loving, protective animals. They have great instincts and will always step up to defend their owners when they sense they're in danger — even if it means putting their own lives at risk.
That was the sad case for one Yorkie, who died a hero after defending his owner from a venomous rattlesnake.
Corrye & Major Hatchell, from Rotonda West, Florida, were the owners of a 3-year-old Yorkie named Jack. They loved their dog with all of his quirks: they told ABC 7 that Jack would "prance" rather than walk, and would always have his tongue slightly out as if ready to give you a kiss.
And Jack loved them right back — as he proved one recent, fateful day, as he faced down a rattlesnake to protect them.
While the couple was entertaining guests at their home, Jack, along with their other Yorkie, Jill, jumped into action after spotting a large diamondback on the doormat.
But their heroic defense turned tragic after Jack was bitten by the venomous snake.
"Jack immediately yelped," Corrye told The Daily Sun. "I knew he had been bitten."
Major then stepped in and killed the rattlesnake with a rake. Sadly, however, it was too late for Jack. The venom set in, and he was quickly paralyzed.
"Before he could get to the avocado tree, which is like less than 15 feet away, his back legs were already paralyzing," Corrye told ABC 7.
They rushed the dog to the hospital, but it was too late. "Jack just didn't have a chance," Major said.
It was a tragedy, but the couple knows their dog didn't die in vain: he stepped up to save Corrye from dying instead.
"That snake was big enough that he definitely would have killed me," Corrye told ABC. "All I can do is praise God for Jack's instinct and for what he has allowed to happen that I lived and Jack's gone. Jack will always be a hero."
The couple, who celebrated Easter just days after Jack's passing, found a spiritual connection between Jack's sacrifice and the crucifixion of Jesus Christ.
They brought Jack home and buried him in their yard, affixing his gravesite with a cross — a memorial to a dog they will never forget.
"Jack had just turned 3 on April 4, but his short life had brighten the lives of so many people," Corrye told The Daily Sun. "But most of important of all is that he was my hero for saving my life."
Rest in peace, Jack. Thank you for being so brave and protecting your owner from harm.
Please share this story to pay respects to this heroic little dog.