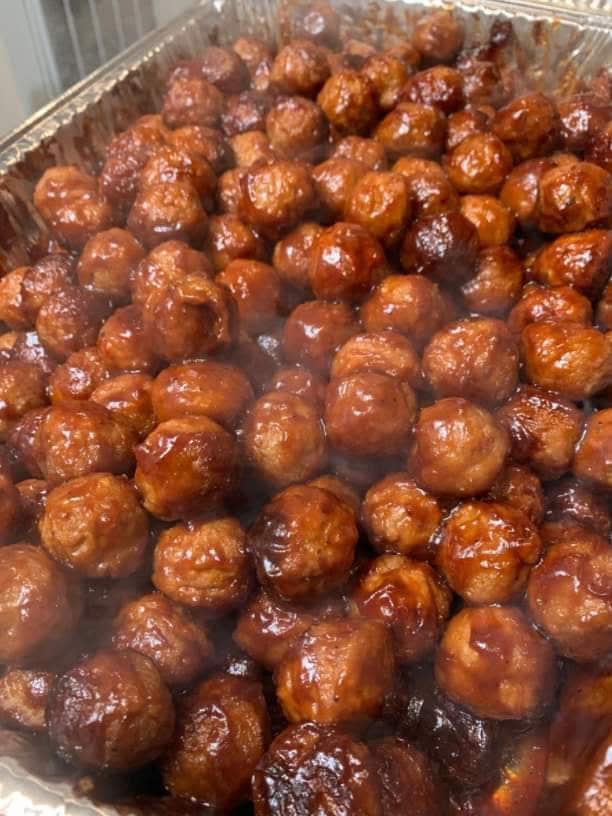 Ingredients
Meatballs:
1 pound of ground beef
1/2 pound of ground pork
1/2 cup ProgressoTM Panko crunchy Italian bread crumbs
1/2 cup Parmesan cheese, shredded
1egg
2 garlic cloves, grated
seasoning with salt and pepper
SAUSE
1/2 cup brown sugar
a half cup of barbecue sauce
2 tblsp. chile powder (or to taste)
chives, chopped (for garnish)
DIRECTIONS
While you're cooking, be sure your screen doesn't go dark.
1.Combine all of the meatball ingredients and roll them into meatballs.
2.Heat a big frying pan with a little oil and add the meatballs one by one, one at a time.
3.After about 4 minutes of cooking, turn the meatballs and cook for another 4 minutes. They should be a little less fragile once they've been cooked on the outside. Start tossing them in the pan a little more to cook them evenly, making sure none are stuck to the bottom. Most of the fat should be drained, but a few tablespoons should remain in the pan.
4.Deglaze the pan with 2 tablespoons of water, scraping up any stuck-on bits. Add the brown sugar and a splash of water if the pan appears to be too dry.
5.When the sauce begins to bubble, it should resemble dark caramel.
6.Take the pan off the heat and stir in the barbecue sauce. Stir everything together thoroughly.
7.Take the pan off the heat and stir in the barbecue sauce. Stir thoroughly.
Enjoy !