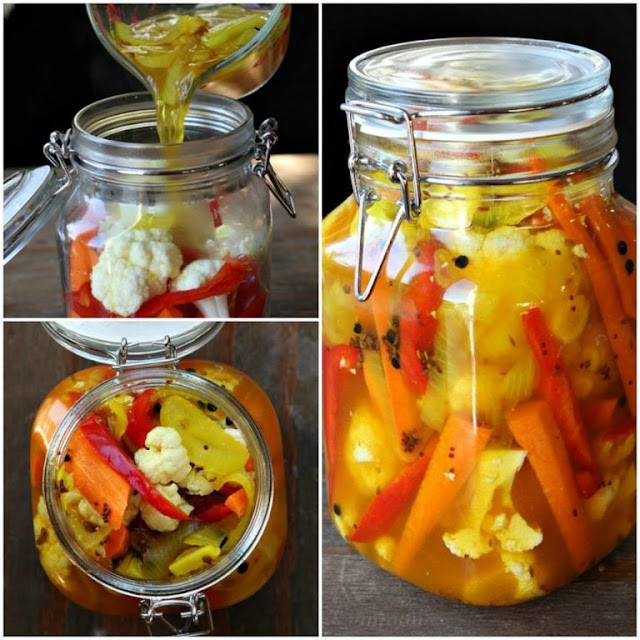 Have you ever tried Pickled Cauliflower? It's easy to make!
Ingredients
teaspoon coriander seeds
1 teaspoon mustard seeds
1/2 teaspoon cumin seeds
2 cups cider vinegar
5 medium garlic cloves, peeled and lightly smashed
Three 1/4-inch thick slices peeled fresh ginger
One half small yellow sweet onion, peeled and thinly sliced
1/2 cup granulated white sugar
2 tablespoons Kosher salt

1 teaspoon black peppercorns
1/2 teaspoon ground turmeric
1/4 teaspoon red pepper flakes
One small head cauliflower, cut into 1 1/2 to 2-inch florets
4 medium carrots, peeled and sliced into lengthwise 4-inch pieces
1 small red bell pepper, cored & seeded & cut into strips
DIRECTIONS:
1. Add the coriander, mustard and cumin seeds to a medium saucepan. Toast the seeds over medium heat, swirling the pan around until the seeds are fragrant and slightly browned, about 2 minutes. Add the vinegar, garlic, ginger, onion, sugar, salt, peppercorns, turmeric, red pepper flakes and 1 cup water to the toasted spices. Bring to a boil.
2. Pack the cauliflower, carrots and bell pepper in a 2-quart jar or bowl. Pour the hot liquid over the vegetables. Let cool to room temperature, and then cover and refrigerate for at least 2 days before tasting. The veggies will keep for up to two weeks in the refrigerator.
Source : allrecipes.com