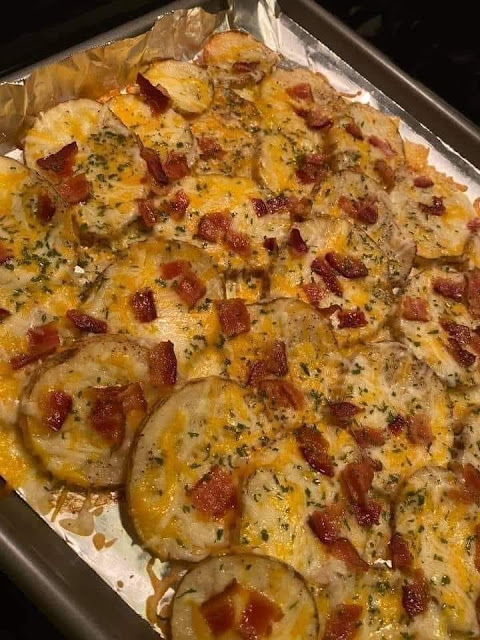 GREENBEAN SAUSAGE–POTATO-CASSEROLE
**Ingredients:
° 1 1/2 pounds kielbasa sausage or smoked sausage, sliced ​​1/4 . thick
°2 pounds blanched baby potatoes, washed and cut in half
°2 15-ounce cans green beans, drained
°1/8 cup vegetable oil
°1/4 cup butter
°1 cup chopped onion
°3 cloves minced garlic
°1 teaspoon slap spice, Mama
°1 teaspoon garlic powder
°1 teaspoon pepper
°  1/2 teaspoon red pepper flakes
°1/4 cup water
* directions:
Step 1:
Preheat oven to 400 degrees and spray a 9 x 13 baking dish with non-stick spray.
Step 2:
Wash the creamy potatoes, cut in half, and add to a gallon-size resealable bag.
Add the oil, spices, pepper, and red pepper flakes to the bhaji. Shake up coat.
Step 3:
In a large skillet, add sausage and water and cook over medium-high heat until sausage turns brown and most of the water has evaporated.
Step 4:
Remove sausage from pan and when cool enough add to bhaji.
Fifth step:
Melt butter in a frying pan, add onion and garlic and cook until onion is translucent.
Let it cool for a few minutes and then when cool enough, add it to the bhaji and shake to mix.
Finally, add the green beans to the bhaji, shake to mix and then empty the contents into the prepared baking dish.
Cover with tin foil and put in the oven. Bake for 40 minutes or until potatoes are tender.
Enjoy!