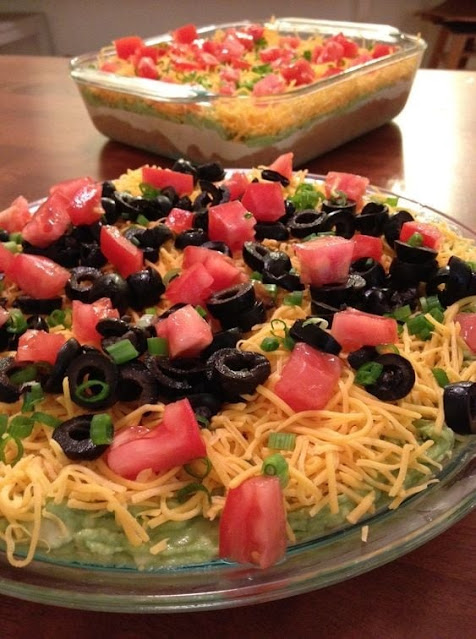 Great seven Layer taco dip
Serve this classic seven-layer taco dip at your next celebration. This unbaked dip has all the flavors of Mexico…including guacamole!
*Ingredients
°16 ounces conventional beans (1 can)
°3 tablespoons taco seasoning
°4 ounces cream cheese (soft)
°8 ounces sour cream
°12 ounces guacamole
°15.5 ounces sauce (your favourite brand) (1 jar)
°8 ounces shredded Colby cheese
°1 cup finely shredded lettuce
°1/3 cup chopped olives
* Directions
Note: This recipe fills a square baking tray 9″ * 9″ to the top. You can also grease it in a 9″ * 13″ baking tray but the layers will be thinner.
Sprinkling refried beans in bottom of square baking-tray, then sprinkling taco season on top.
In a small bowl, combine cream cheese and sour cream together. Mix well, then distribute over the fried beans.
Spread the guacamole over the sour cream mixture.
Spread the sauce over the guacamole.
Sprinkle cheese over the sauce.
Sprinkle lettuce over cheese.
Sprinkle chopped olives on the face.
Serve immediately or within one hour of preparing the dip. Cover and put in the fridge before serving.
Enjoy!