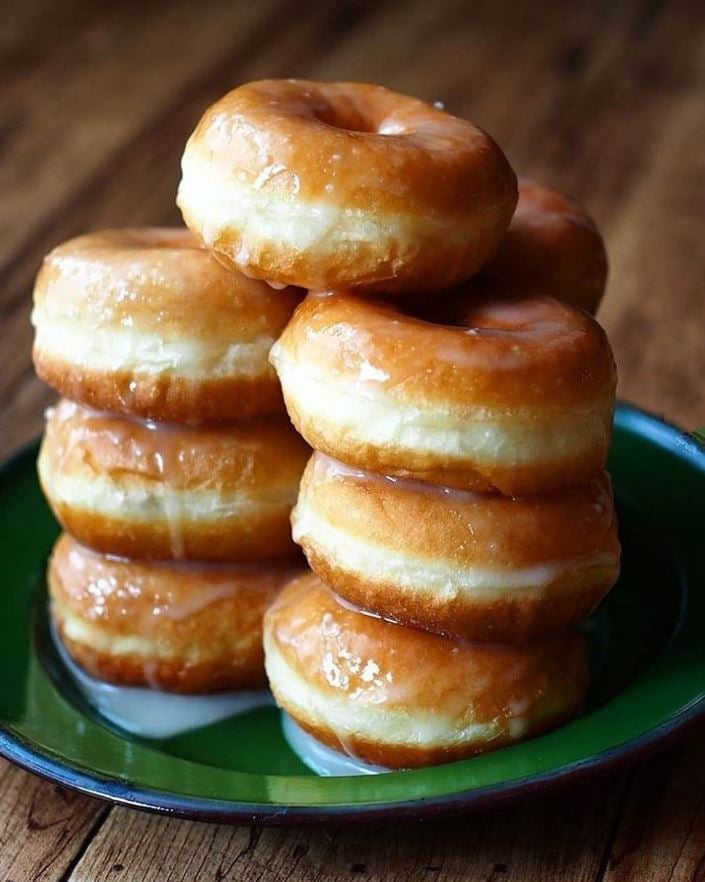 Ingredients
1 1/4 cup whole milk, warmed
2 1/4 tsp or 1 package of yeast
3 1/2 cups all-purpose flour
1/3 cup white sugar
1 tsp salt
1/4 tsp nutmeg
3 Tbsp shortening, melted or oil
1 egg
Oil for fryingGlaze for donuts;
1/3 cup butter, melted
2 cups powdered sugar
1-1/2 tsp vanilla extract
4 Tbsp milk or water, warmed
---
Instructions;
1.In a jug combine warmed milk and yeast, mix and let it foam up for 5-10 minutes.
2.In the bowl of a standing mixer fitted with a hook attachment, stir together flour, sugar, salt, and nutmeg.
3.Add melted shortening and egg to milk and yeast and mix to combine.
4.Add mixture to the flour mixture, mix on low until the dough comes together, increase speed to medium-high and mix for 5-7 minutes.
5.Grease bowl with oil and add dough, brush the top of the dough and cover with plastic wrap and a kitchen towel and let it rise for one and a half to two hours.
6.Sprinkle a little bit of flour in your work surface and roll out dough to 1/2 inch thick, cut donuts with a round cutter and cut a hole in the center.
7.Place donuts in a baking sheet, cover, and let it rise for 30-45 minutes.
8.Make the donuts glaze by combining all the glaze ingredients together.
9.Once donuts doubled again, start frying them on hot oil over medium heat until golden brown on both sides.
10.Remove from oil and place them on a cooling rack.
11.Dip each donut in the glaze allowing the excess glaze to drip off.
12.Allow glaze to set and enjoy.