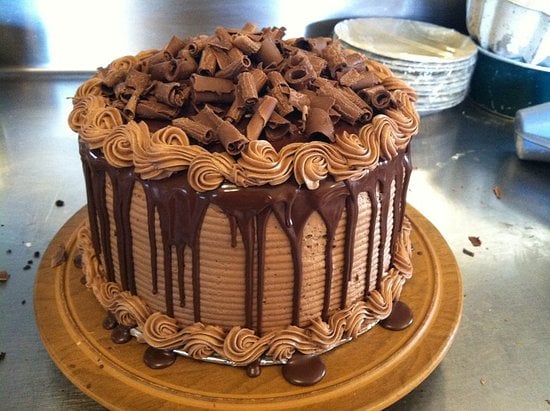 The most delicious German chocolate cake is moist, rich and layered with a delicious coconut filling. This is German chocolate cake you've always dream of !
° 1 and 3/4 cup (219 grams) all-purpose flour (spoon and flat)
° 3/4 cup (65 g) natural unsweetened cocoa powder
1 and 3/4 cup (350 g) granulated sugar
° 2 teaspoons of baking soda
° 1 teaspoon baking powder
° 1 teaspoon salt
° 2 teaspoons of espresso powder (optional) *
° ½ cup (120 ml) canola or vegetable oil
° 2 large eggs at room temperature
° 3/4 cup (180 g) full-fat sour cream, at room temperature
° 1/2 cup (120 ml) buttermilk, at room temperature*
° 2 teaspoons of pure vanilla extract
° 1/2 cup (120 ml) hot water or coffee*
Coconut and walnut filling
1/2 cup (1 stick; 115 g) unsalted butter
1 cup (200 g) light or dark brown sugar
3 large egg yolks
° 1 can (8 oz, 240 ml) evaporated milk
° 1 teaspoon pure vanilla extract
° 2 cups shredded sweetened coconut
° 1 cup (125 g) chopped pecans
frost
° Use buttercream with chocolate to make a fried cake
° Use chocolate buttercream to decorate the surface and sides
° Optional garnish: toasted coconut and sweetened grated coconut
Instructions :
Preheaat oven to 340°F (177°C). Grease three 9 by 2-inch cake pans, spray them with parchment paper, then line them with parchment paper. The parchment paper helps cupcakes smoothly release from the pans.
Making cake: Whisking flour / cocoa powder / sugar, baking soda, baking powder, salt, & espresso powder (if using) together in a large bowl. Sit aside. Utlize a stand with a beat attachment (or you can use a whisk), mix together the oil, eggs, sour cream, yogurt, and vanilla until blended. Cast wet ingredients To the dry ingredients, adding hot water or coffee, & blend
Divide mixture evenly among 3 trays. Baking for 22-26 min . Baking times vary, so watching your time.
Removing cake from oven and placing it on a wire rack. Let it to cool totally in the skillet.
When the cake has cooled, prepare the coconut and coconut filling until cooled and ready at the same time. Blend butter / brown sugar / egg yolk, also evaporated milk in a saucepan on medium heat. Beat until mix boils. Boiling time, whisking constantly until mixture thickens, 5 minutes. Removing from heat & adding vanilla, drink walnuts & coconut. Leave to cooled totally before layering cake. It will thicken as it cools.
Mixing and Frosting: First, flatten cakes if necessary: ​​Using a large serrated knife, cut a thin layer from top of cakes to make a flat surface. Placing one layer cake on cake stand. Covering top equally with half of the coconut filling (½ cup and ¼ cup). Cover the second layer and cover the top evenly with the rest of the coconut filling. Lay 3 cake layers on top. Spread the buttercream with chocolate in a thick layer on top. Decorate with extra coconut & toasted coconut, if desired. Chill at least 45 min before slicing, otherwise the cake may crumble gently while slicing.
Cover the remaining cake tightly and keep it in the refrigerator for 5 days.
Enjoy !