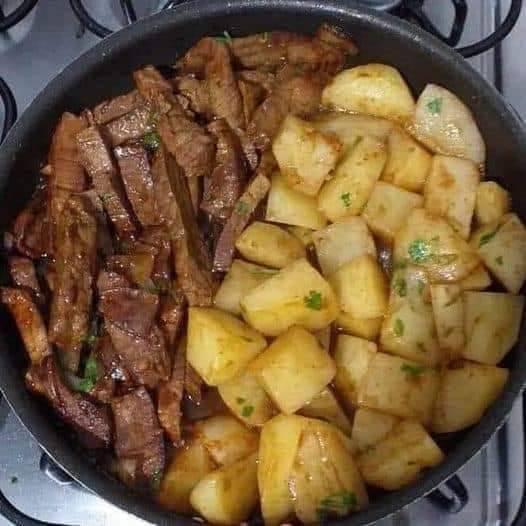 Garlic Butter Steak and Potatoes Skillet
Ingredients :
5 small spoon salted butter with two tablespoons for the potatoes
2 small spoon minced garlic
1 small spoon dried Italian herb blend
1 small spoon chopped fresh thyme
1 small spoon chopped fresh parsley
5 small steaks
salt and pepper
garlic powder
1 large spoon olive oil
5 pounds baby potatoes, diced
Directions :

Step 1:
Preheat oven to 350 degrees. In a little bowl mix butter/ garlic/ & dried herbs. Season steaks with salt, pepper, and garlic powder on both sides.
Step 2:
Put the skillet over medium-high heat and drizzle with oil. Sear steaks about 4 min one each side until nice and browned. Transfer to a plate & set aside.
Step 3:
Add potatoes to the skillet, season with salt/ pepper/ and garlic powder & saute 6 min until browned. Push potatoes to one side of the pan and return steaks to the other side of the pan.
Step 4:
Transmit to oven and cook for 21 min until potatoes are fork-tender and steak is cooked to your choice.
Step 5:
Instantly after removing from the oven, put a dollop of the garlic butter on each steak and the remain on the potatoes & allow it melt over the food.
ENJOY!