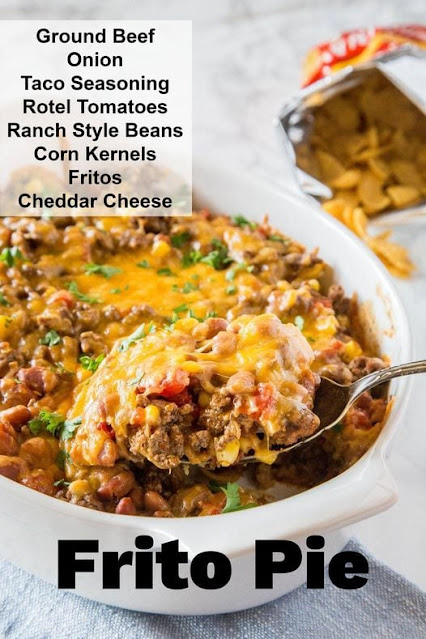 INGREDIENTS
1 pound Ground Beef
1 small Onion, finely chopped
1 packet Taco Seasoning
1 10-ounce can Diced Tomatoes with Green Chilies
1 15 ounce can Ranch Style Beans
1 cup Corn Kernels
1 10.25 oz bag Fritos
1 1/2 cups Shredded Cheddar Cheese

INSTRUCTIONS
Preheat oven to 350°F. Spread 3/4 of the bag of Fritos in the bottom of a 9×13 inch baking dish.
In a large skillet brown ground beef and onion until fully cooked and onions are soft.
Mix in taco seasoning until well blended.
Add diced tomatoes, beans and corn. Mix until everything is well combined.
Pour over fritos and spread into an even layer. Sprinkle the cheese over the beef mixture.
Bake for 15-20 minutes until the cheese is melted and bubbly.
Serve topped with additional Fritos and your favorite taco toppings.