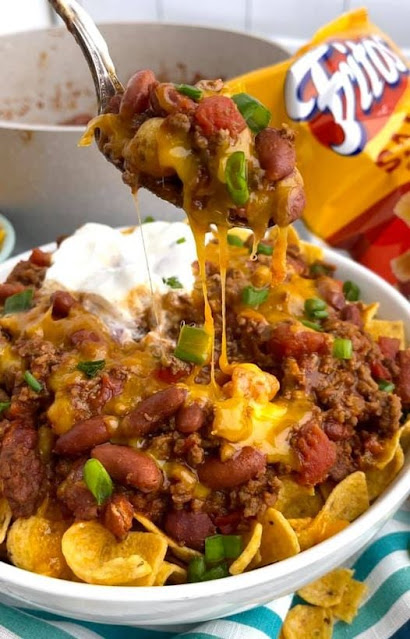 When it comes to easy comfort food you can't get much tastier than this cheesy and meaty Frito Chili Pie. It's a delicious recipe the whole family will love.
I grew up on Frito Chili Pie. It was one of those recipes that I really first learned how to make, and once I knew how to make it I couldn't stop.
I would always make it when I would have friends over, it just seemed like the right thing to do. I mean chili, cheese, chips, how can you go wrong.
You really can't go wrong when it comes to this recipe. It is pretty much just making a chili base, layering it over Fritos and then topping with cheese.
Now simple, yes but the flavor is absolutely there. That is what really draws me to this recipe is the flavor, oh it is so good.
I'm completely addicted to this one, it really is a nostalgic recipe for me but I come back to it all the time because both me and my family love it.
WHY THIS RECIPE WORKS:
Making your own chili sauce gives you the ability to make this your favorite chili flavor.
You can double this recipe to serve larger crowds, as it is certainly popular.
Use your favorite cheese!
INGREDIENTS NEEDED:
Ground beef
Onion
Garlic
Kidney beans
Tomato paste
Rotel
Chili powder
Salt
Granulated sugar
Ground cumin
Fritos
Cheddar cheese
Optional toppings:  diced onions, diced jalapeno peppers, sour cream, sliced green onions, diced tomatoes, chopped bell peppers
---
HOW TO MAKE FRITO CHILI PIE:
In a large skillet or pot, brown the ground beef, onion, and garlic at medium heat. Drain excess fat.
Add kidney beans, tomato paste, rotel, chili powder, salt, sugar, and cumin.  Stir together well.
Turn the heat down to medium low.  Allow the mixture to simmer uncovered for 20 minutes.
Pour a bag of fritos onto a serving dish, or pour a single serving of fritos onto each person's plate.
Serve the chili over fritos , sprinkle with shredded cheddar cheese, and use desired toppings.
CAN I MAKE THIS INTO A WALKING FRITO CHILI PIE?
Absolutely! Just open up a single-serving size bag of fritos and scoop in some of the chili. Then it can be eaten right out of the bag.
We like to do this for parties, it makes it more easy and convenient for guests to be able to make their own and saves bowls and dishes.
CAN I USE ANYTHING OTHER THAN GROUND BEEF?
We have also made this with ground chicken and pork and it still tastes amazing. Don't think that you are just stuck to one meat. Try out others, you'd be surprised how good they are.
CAN THIS BE MADE MEAT FREE?
Yes, I would add extra beans in place of the ground beef.  Try adding whatever beans you like.  Some good options would be pinto beans, black beans, cannellini beans, or garbanzo beans.
Use 2 -14 ounce cans in place of the 1 pound of ground beef.
HOW DO I STORE?
This Frito Chili Pie will keep for 3 days in the refrigerator, kept in an airtight container.  Or the chili itself may be frozen for up to 3 months stored in an airtight container.
Let it defrost in the refrigerator overnight and reheat on the stove or in the microwave.
EXPERT TIPS AND TRICKS:
This can be made with any kind of meat, we like ground beef and the leaner the better.
You can make this meatless, see my tips above on how to do this.
This can be frozen. (See the note above regarding this.)
If you want this a little saucier you can add 1 -15oz can tomato sauce.
This isn't a spicy recipe. If you want more spice you can add more chili powder, red pepper flakes, jalapenos, or cayenne pepper.
You can make this dish into individual servings with smaller bags of fritos.