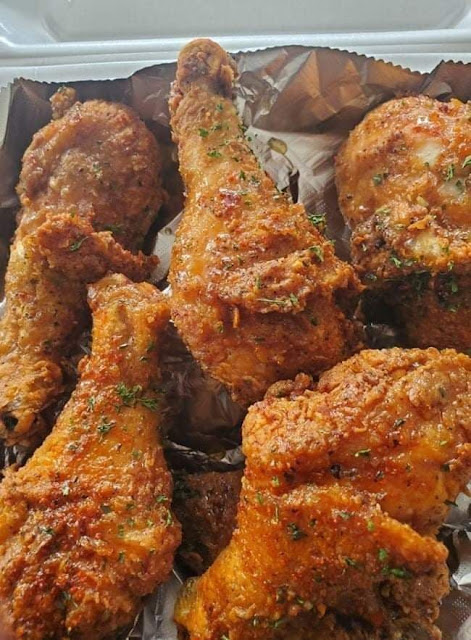 I like to eat with my fingers … That's why I'm sharing a fried chicken recipe with you. And yes, like in some fast foods, served in buckets, accompanied by mash, fries, corn on the cob ect … I love it, my mother often made it to me when I was at her house. No need for a lot of ingredients and especially not to be on a diet, which is my case but I don't live in frustration;). So for those who are against the frustration they follow me:
* Ingredients :
° 8 chicken thighs
° 2 eggs
° 90 grams of flour
° 20 cl of milk
° 1 tsp. garlic powder
° salt
° pepper
° frying oil
* Preperation :
Beat eggs with a fork with the milk.
Pour the flour into a plastic bag, similar to the bags we were given at Carrefour. (back then, but now always carry a bag with you when shopping. Let's be green!)
Add the garlic, 1 teaspoon of pepper and 1 teaspoon of salt.
Dip the chicken thighs in the milk-egg mixture
Then put the soaked chicken thighs in the bag. Close the bag and shake it so that the chicken is coated with flour. The little extra thing, if you ever want to add spices, it's now, like chili powder, thyme, bay leaf etc …;)
In a saucepan (well 4 to 5 cm of oil), a sauté pan (same for oil), a deep fryer, heat well for 10 minutes.
Fry the chicken pieces for 20 minutes over medium heat, turning them halfway through cooking.
Cover a baking sheet, basket or plate with newspaper and then with absorbent paper to drain the chicken thighs.
Enjoy !