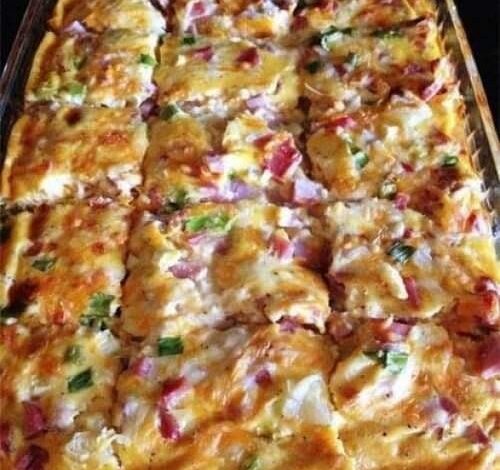 Are you craving a wholesome, hearty meal that's easy to make? Look no further than Farmer's Casserole! In this article, we'll walk you through the process of creating this mouthwatering dish step by step. From the ingredients you'll need to a detailed set of directions, we've got you covered. Let's get cooking!
Farmer's Casserole Ingredients:
| Ingredients | Quantity |
| --- | --- |
| Frozen hash brown potatoes | 3 cups |
| Shredded pepperjack cheese | ¾ cup |
| Cooked ham, diced | 1 cup |
| Chopped green onions | ¼ cup |
| Eggs, beaten | 4 |
| Evaporated milk | 1 (12 fluid ounce) can |
| Ground black pepper | ¼ teaspoon |
| Salt | ⅛ teaspoon |
Instructions:
Preheat the Oven: Start by preheating your oven to 350 degrees F (175 degrees C). Grease a 2-quart baking dish.
Layer the Ingredients: Arrange the frozen hash brown potatoes evenly in the bottom of the prepared dish. Sprinkle with shredded pepperjack cheese, diced ham, and chopped green onions.
Prepare the Egg Mixture: In a medium bowl, mix the beaten eggs, evaporated milk, ground black pepper, and salt. Pour this egg mixture over the potato and cheese layers in the dish. You can cover the dish and refrigerate it at this point for several hours or overnight, making it a convenient make-ahead meal.
Bake to Perfection: Bake for 40 to 45 minutes (or 55 to 60 minutes if you've refrigerated it) in the preheated oven. Your casserole is ready when a knife inserted in the center comes out clean. Allow it to stand for 5 minutes before serving.