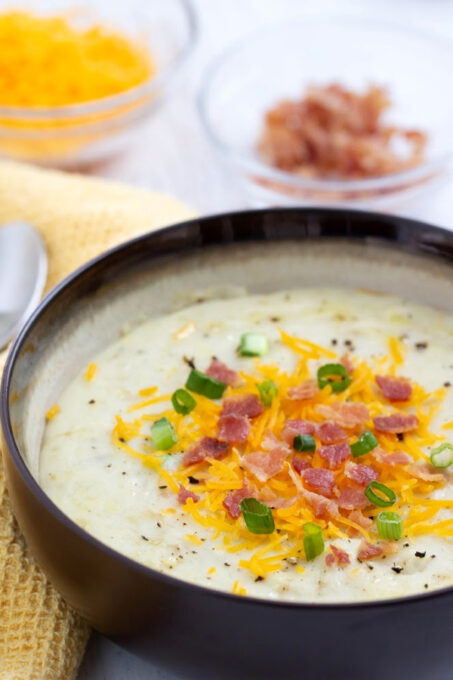 INGREDIENTS
3 cups Tasteful Selection White Delight Potatoes, diced
1/2 yellow onion, chopped
1/2 tsp minced garlic
2 cups chicken broth
2 cups milk
3 tbsp butter
1/4 cup flour
Salt and pepper to taste
Optional: Shredded cheese, bacon and scallions for toppings

INSTRUCTIONS
Place potatoes and chicken broth in a large dutch oven or pot and bring to a boil. Cook until potatoes are soft, about 10 minutes.
While potatoes are cooking, melt butter in a saucepan, then saute the onions. Once they begin to soften, stir in the garlic and cook for an additional minute or two.
Whisk in flour.
Add milk and cook over medium heat, stirring regularly.
Once the milk thickens, add milk and onion mixture to the cooked potatoes.
This next step is totally optional. If you like a chunky potato soup, you're ready to add your toppings and serve. However, we like our potato soup to have a smoother consistency so I put it in the food processor just long enough to break down the potatoes, about 20-30 seconds.
Ladle into bowls and add toppings such as cheese, bacon and/or scallions.
Enjoy!
NOTES
I love how easy this recipe is to make already but if you want to save even more time, use pre-cooked bacon and prepared garlic instead of fresh.