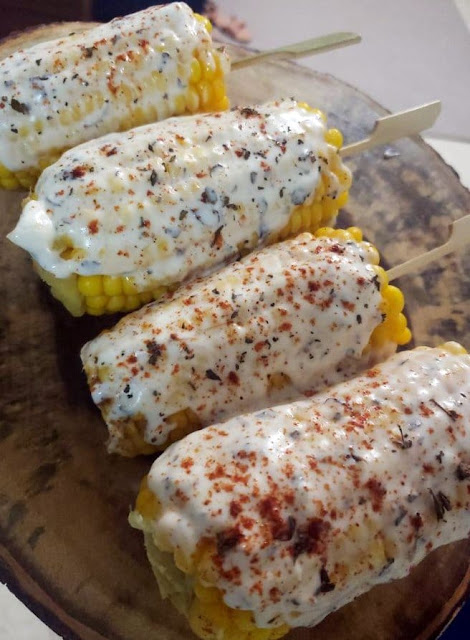 As an accompaniment or as a gourmet snack, nothing beats beautiful golden corn on the cob. And if prepared according to a typical Mexican recipe, this is nothing but a delight for the taste buds! A little chili, fresh cilantro, lemon: So many aromatic ingredients that make you want to travel to the Americas… Mexican corn on the cob? We say yes, my captain 😉
* Ingredients: 2 persons.
° 4 corn cobs, peeled
° 10 cl of homemade mayonnaise
° 10 cl of sour cream (or sour cream)
° 200g grated queso kotija
° ½ tsp. chili powder
° 1 c. Lemon juice
° 3 tbsp. olive oil
° salt pepper
* Preparation:
1.
Begin by preheating the oven for 10 minutes, 7 (200°C). Grease the corn with olive oil, salt and pepper. When the oven is hot, place them on a baking tray lined with parchment paper. Cook for 30 minutes, flipping halfway through the cooking process, so they are evenly cooked.
2.
Mix sour cream and mayonnaise. When the ears are cooked, sprinkle the mixture with a tablespoon, and sprinkle with queso cotija and cayenne pepper before adding a splash of lemon juice. It's time to enjoy Mexican corn on the cob!
Enjoy !