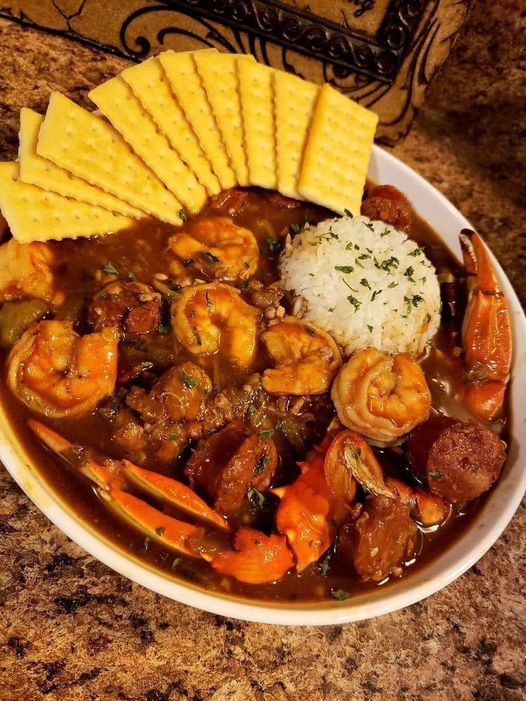 EASY Crockpot Gumbo Recipe
How to make an easy delicious crockpot Gumbo recipe.
INGREDIENTS:
3 tablespoons flour
3 tablespoons oil
1/2 pound smoked sausage, cut into 1/2 inch slices
2 cups frozen cut okra
1 large onion, chopped
1 large green bell pepper, chopped
3 cloves garlic, minced
1/4 teaspoon ground red cayenne pepper
1/4 teaspoon pepper
1 can (14.5-ounce size) diced tomatoes, undrained
1 package (12-ounce size) frozen shelled deveined cooked medium shrimp, rinsed
1 1/2 cup uncooked regular long-grain white rice
3 cups of water
DIRECTIONS:
1 ) In a small saucepan, combine flour and oil; mix well.
2 ) Cook, stirring constantly, over medium-high heat for 5 minutes.
3 ) This is your Roux. Reduce heat to medium; cook, stirring constantly, about 10 minutes or until mixture turns reddish brown.And place flour-oil mixture in 3 1/2 to 4 quart Crockpot.
4 ) Stir in all remaining ingredients except shrimp, rice and water. And cover; cook on low setting for 7-9 hours.
5 ) When ready to serve, cook rice in water as directed on package.
6 ) Meanwhile, add shrimp to gumbo mixture in Crockpot; mix well.
7 ) Cover; cook on low setting for an additional 20 minutes. Serve gumbo over rice.