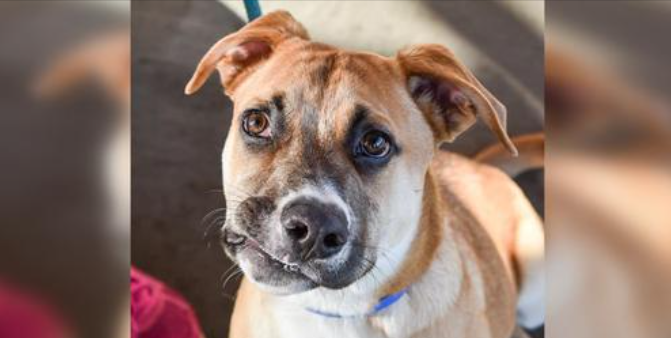 Dog with crooked smile looking for a new forever home after being returned to shelter
All animals are beautiful and deserving of love, even ones that look a little different. But sometimes it can be hard for shelter pets with unconventional looks to find their forever homes — potential adopters might pass them over in favor of more typically cute pets.
Now, one shelter is searching for a home for a friendly dog who might have a crooked mouth but never stops smiling.
Meet Zeke:
Zeke, a Shepherd/Boxer mix, has a noticeably crooked grin, the permanent result of a birth defect, but he's never let it bother him.
He came to the nonprofit adoption center The NOAH Center, in Washington, last January when he was seven months old. Despite his unusual look, this friendly dog quickly won the hearts of everyone at the shelter.
"I cannot express how lovely he is," Katrina Wedin, the center's dog care coordinator, told The Dodo. "Zeke, beyond all else, is people-oriented and loves to have attention and interaction with people. He now has a massive fan club at our shelter — staff and volunteers included."
Zeke then spent his first few months in the shelter waiting to be adopted. The NOAH Center said they were looking for a home that could give the dog plenty of time and attention, saying that the young dog's "manners" still needed improving, despite his loving personality.
Soon, the shelter did find a family willing to adopt Zeke, and that seemed to be the happy ending — but later, Zeke was surrendered to the shelter.
It wasn't Zeke's fault, but rather due to personal issues with his new family, who felt they could no longer care for him: "He was recently returned to us after his adopters experienced hardship," the NOAH Center explained.
It was a setback, but now the shelter is determined to find Zeke another home, hopefully for good this time: "This guy is a sweet and loving dog who loves affection and has the cutest crooked smile."
But Zeke hasn't had any interested adopters yet, and the shelter suspects it is because of his deformity — not so much that adopters are put off by the way he looks, but the fact that it might require additional surgeries as he gets older, according to The Dodo.
Finding someone willing to love Zeke and give him all the care he needs going forward requires some extra effort, but the NOAH Center is determined to find just the right home for this beautiful dog.
"He is a lovely, goofy man who desperately wants to be loved and be loyal to a forever person," Katrina Wedin said.
If you think you could be the one to give Zeke a loving forever home, you can contact The NOAH Center.
Let's help spread the word and find this dog a home, share this story!