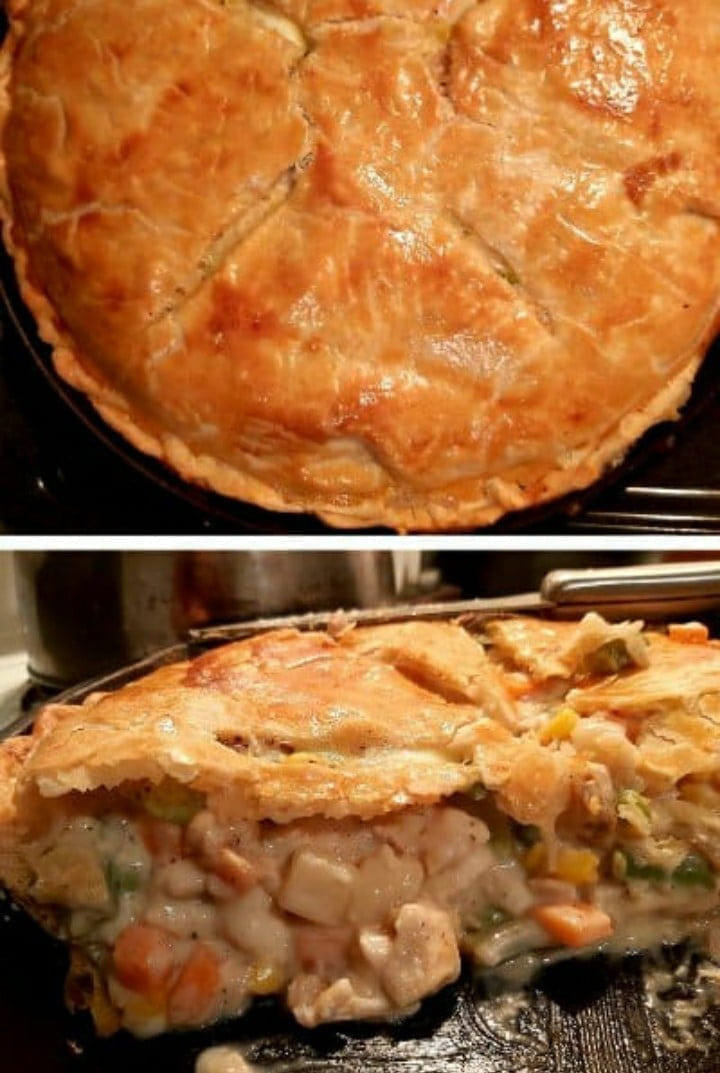 Delicious Chicken Pot Pie!!!
Chicken Pot Pie are a fun and easy recipe for your kids and family any night of the week. With the perfect combination of biscuits, chicken, vegetables, and cheese, this is sure to be a new family favorite.
This recipe is ideal to take to work, if you don't want to make a super pie you could make individual ones. Depending on the size you give it, you can make 2 or 3. They are great, prepare 2 or 3 meals in one recipe and freeze them.
Save time but never give up a good meal! I don't know what to call it, chicken pie, corn pie, chicken pie… We can call it in a thousand ways, but we all agree that it is so but so delicious that it restores any evil. You can use green onion instead of leek, and add on top seeds like flax or pumpkin seeds… Or black sesame, it looks very nice!
Simple and easy ! My whole family loves this recipe so much. If it were for them, I'd be making this every day! Give it a shot, you'll love it!To Make this Recipe You' Will Need the following ingredients:
Ingredients
1 cup potato, diced
1 cup onion, diced
1 cup celery, diced
1 cup carrot, diced
1⁄3 cup melted margarine
1⁄2 cup all-purpose flour
2 cups chicken broth
1 cup half-and-half
1 teaspoon salt
1⁄4 teaspoon pepper
4 cups chicken, cooked and chopped
2 pie crusts (either store bought or your own recipe)
Directions
Preheat oven to 400°F.
Saute onion, celery, carrots and potatoes in margarine for 10 minutes.
Add flour to sauteed mixture, stirring well, cook one minute stirring constantly. Combine broth and half and half.
Gradually stir into vegetable mixture.
Cook over medium heat stirring constantly until thickened and bubbly. Stir in salt and pepper; add chicken and stir well.
Pour into shallow 2 quart casserole dish and top with pie shells.
Cut slits to allow steam to escape.
Bake for 40-50 minutes or until pastry is golden brown and filling is bubbly and cooked through.