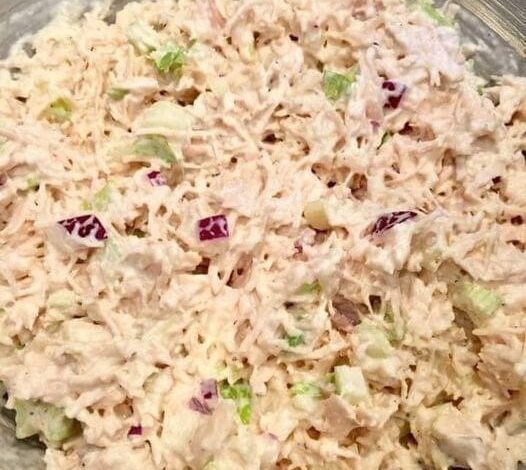 If you love the creamy and savory goodness of deli-style chicken salad, you're in for a treat! In this comprehensive guide, we'll walk you through the process of preparing a chicken salad that's both easy to make and bursting with flavor. Whether you're planning a picnic or simply want a quick and tasty meal, this chicken salad will be your new go-to recipe.
Deli-Style Chicken Salad Recipe Ingredients
Get ready to whip up a delectable deli-style chicken salad with this handy table sheet format of ingredients:
| Ingredient | Quantity |
| --- | --- |
| Cooked Chicken | 2 cups, shredded or diced |
| Mayonnaise | 1/2 cup |
| Greek Yogurt | 1/4 cup |
| Dijon Mustard | 1 tablespoon |
| Lemon Juice | 1 tablespoon |
| Celery | 1/2 cup, finely chopped |
| Red Onion | 1/4 cup, finely chopped |
| Red Grapes | 1/2 cup, halved |
| Slivered Almonds | 1/4 cup |
| Fresh Dill | 1 tablespoon, chopped |
| Salt | 1/2 teaspoon |
| Black Pepper | 1/4 teaspoon |
Instructions:
In a large mixing bowl, combine the mayonnaise, Greek yogurt, Dijon mustard, and lemon juice. Stir well until the dressing is smooth and well blended. This creamy base will add lusciousness to your chicken salad.
Add the cooked and shredded (or diced) chicken to the dressing. Toss the chicken until it's evenly coated with the dressing, ensuring every piece is flavored to perfection.
Fold in the finely chopped celery and red onion. These crunchy vegetables add a refreshing element to the salad and complement the tender chicken.
Gently stir in the halved red grapes. The sweetness of the grapes balances the savory flavors and brings a delightful burst of juiciness.
Incorporate the slivered almonds into the chicken salad. These nutty bites add a delightful crunch and nutty flavor to each forkful.
Season the salad with chopped fresh dill, salt, and black pepper. The dill elevates the salad with its herbaceous aroma, while the salt and black pepper bring out the flavors of all the ingredients.
Serving the Deli-Style Chicken Salad
Once your deli-style chicken salad is perfectly mixed, you have several delicious ways to enjoy it:
Serve it on your favorite bread as a classic chicken salad sandwich.
Wrap it in a tortilla or lavash for a delightful chicken salad wrap.
Place a scoop on a bed of fresh greens for a wholesome and satisfying salad.
Enjoy it as a tasty dip with crackers or veggie sticks.
Storing the Chicken Salad
If you have leftovers, store the chicken salad in an airtight container in the refrigerator. It will stay fresh for up to 3 days, making it perfect for meal prep or quick lunches.
FAQs
Q: Can I use canned chicken for this recipe? A: While fresh cooked chicken is recommended for the best taste and texture, you can use canned chicken in a pinch. Make sure to drain it thoroughly before adding it to the salad.
Q: Can I add other fruits or nuts to the chicken salad? A: Absolutely! You can get creative and add ingredients like chopped apples, dried cranberries, or toasted pecans to enhance the flavors and textures.
Q: Is there a substitute for mayonnaise? A: If you prefer a lighter option, you can replace some or all of the mayonnaise with Greek yogurt or sour cream.
Q: Can I make the chicken salad in advance? A: Yes, you can prepare the chicken salad a few hours before serving. Just refrigerate it until you're ready to enjoy.
Q: Can I use rotisserie chicken for this recipe? A: Rotisserie chicken works wonderfully in this recipe and adds a depth of flavor. Simply shred the meat from the rotisserie chicken and use it in place of cooked chicken.
Q: How do I prevent the chicken salad from becoming too watery? A: To prevent excess moisture, make sure to drain any liquid from the canned chicken, grapes, or other fruits you add to the salad.
You've just created a delightful deli-style chicken salad that's versatile and incredibly tasty. Whether you're making sandwiches for a picnic or enjoying a light lunch at home, this chicken salad is sure to satisfy your cravings.
With the table sheet format of ingredients and our easy-to-follow steps, you can confidently make this salad any time you desire a scrumptious and satisfying meal. Enjoy the compliments as your friends and family savor every delicious bite!