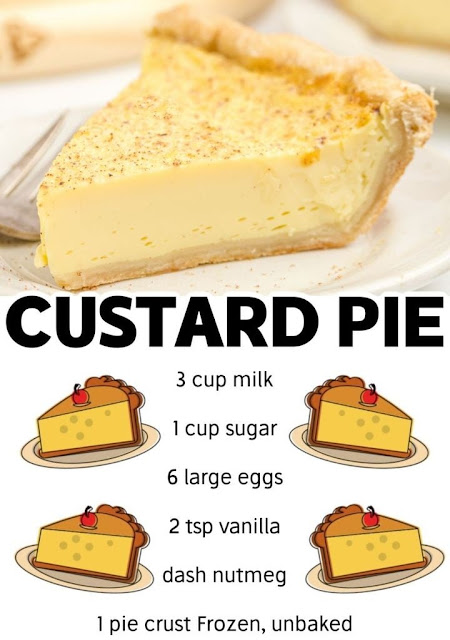 Cream pie is a popular Guyanese treat. This delicious dessert is often out for dessert at parties or family meals.
* INGREDIENTS :
° Shortcrust pastry with spices
° 300 g flour
° 150 g cane sugar
° 1 egg
° 180 g semi-salted butter, or half / half butter and lard
° 0.5 sachet of baking powder Buy
° 1 teaspoon of cinnamon powder Info Buy
° 2 pinches of powdered nutmeg Info Buy
° 1 teaspoon of lime zest
° 1 teaspoon of bitter almond Buy
° 1 teaspoon of liquid vanilla Info Buy
Imperial cream
° 750 ml of semi-skimmed milk Buy
° 387 g of sweetened condensed milk Buy
° 1 pinch of cinnamon powder Info Buy
° 2 teaspoons of natural liquid vanilla flavor or a vanilla pod or powdered vanilla Info Buy
° 90 g of unsweetened imperial cream powder Buy
° 80 ml of water
° 2 tablespoons of old rum (optional) Buy
* INSTRUCTIONS :
Preparation of the dough
In a salad bowl, pour the flour. Make a well and add the softened butter, sugar, baking powder, egg, cinnamon, nutmeg, vanilla, bitter almond and lemon zest.
Mix and form a ball.
Place the dough on a sheet of baking paper and cover it with another sheet of baking paper. Roll out the dough with a rolling pin to about 5mm thick. Butter a pie mold 30 cm in diameter and line it with the previously rolled out dough. Prick pie shell with fork & set apart . Preheaat oven 180 degrees.
Preparation of the imperial cream
In a saucepan, combine the milk and the sweetened condensed milk. Add the spices. To mix together. Put the saucepan on the heat and heat the preparation over medium heat.
At the same time, in a small bowl, combine the imperial cream powder with the water. Thoroughly dilute the imperial cream powder.
When the milk is hot, add the pre-diluted imperial cream and stir constantly over medium heat with a whisk.
Once the cream has thickened, turn off the heat and add the old rum (optional). Mix and garnish the pie shell with the imperial cream.
Bake immediately for about 25 minutes at 180 degrees. The pie is ready once the dough is cooked and the cream is golden to your liking.
Enjoy !