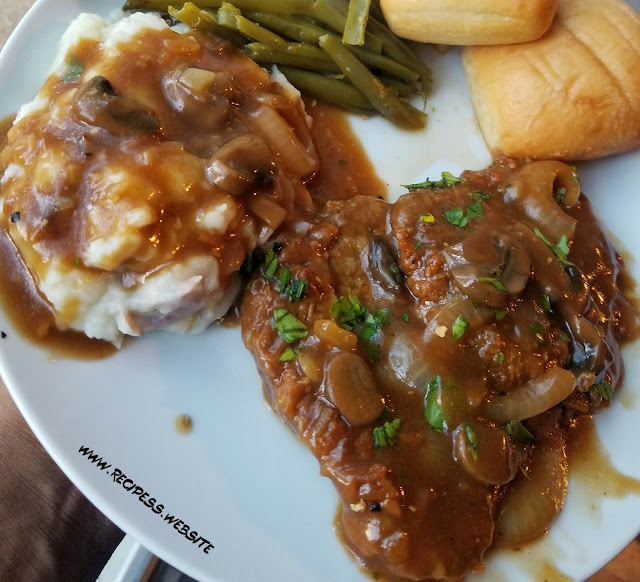 CUBED STEAK WITH ONION GRAVY
HOW TO MAKE CUBED STEAK WITH ONION GRAVY?
One of our favorite meals is cubed steak with onion gravy. This recipe for cubed steak and gravy is quick and straightforward to prepare.
Bread, a side dish, and a salad are all that are needed for a great lunch with this cubed steak and onion gravy. This could be also served over rice. If there are some leftovers, they are delicious reheated. The recipe can easily be doubled.
This is a go-to recipe for me because it's a great, inexpensive weeknight dinner that can be thrown together with a few simple side dishes. I enjoy onions and use them in a variety of recipes because they bring much more flavor. I'm sure you'll make this one again and again!
THIS IS THE LIST OF ALL INGREDIENTS I NEEDED FOR THIS RECIPE:
Around 850 grams.Of cubed steak.
1/4 Cup.Of flour.
1/4 Small spoon.Of ground pepper.
1/4 Small spoon.Of salt.
1/4 Small spoon.Of garlic powder.
1/2 Cup.Of olive oil.
1 medium can. Of beef broth, I used the 14-oz can.
1 large onion, I cut into rings.
A Pkg.Of dry onion soup mix.
THIS IS HOW TO PREPARE MY CUBED STEAK WITH ONION GRAVY RECIPE:
Step 1:
In a shallow bowl, I combined the flour with ground black pepper, salt, and garlic powder. Using the flour combination, I coated the cubed beef.
Step 2:
After that, I heat the olive oil in a skillet and cooked the steak for five to seven minutes on either side or until brown and ready on the inside.
Step 3:
Then, I removed the cooked steak from the pan.
Step 4:
At this point, In the same pan, I added the beef broth, sliced onion, and dry onion soup mix, and I cooked this mixture until the onion was done.
Step 5:
Personally, I like the gravy to be smoother, so I added a little cornstarch.
Step 6:
Keep in mind that, the gravy may be used as a side dish or poured over the beef.
Note:
The kids really prefer this gravy over mashed potatoes or over biscuits, so don't hesitate to try it for them, they'll love it for sure!!