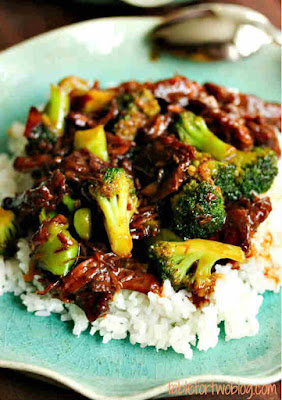 CROCK POT BEEF AND BROCOLI
INGREDIENTS
1 lb. boneless, beef chuck roast, sliced into thin strips
1 cup beef consumme or beef broth
1/2 cup low sodium soy sauce
1/3 cup dark brown sugar
1 tbsp. sesame oil
3 garlic cloves, minced
2 tbsp. cornstarch
4 tbsp. sauce (from the crockpot after dish is cooked)
Frozen broccoli florets (as many as desired, I believe I used almost 2 cups)
White rice, cooked
INSTRUCTIONS
In the insert of the crockpot, whisk together beef consume, soy sauce, dark brown sugar, sesame oil, and garlic.
Gently place your slices of beef in the liquid and toss to coat.
Turn crockpot on low and cook for 6 hours.
When done, in a small bowl, whisk together cornstarch and cooking liquid to create a slurry, pour into crockpot, stir to mix well. Cook on low for an additional 30 minutes to thicken up the sauce.
Toss in your broccoli florets then serve hot over white rice.
*Note about cooking time: Your crockpot may differ in temperature than mine, I suggest cooking this for 4 hours on your first go-round of this dish. 6 hours in the crockpot seems to be giving a lot of people "shredded" beef instead of slices, so decrease cooking time by 2 hours and go from there. Mine turned out fine with 6 hours.