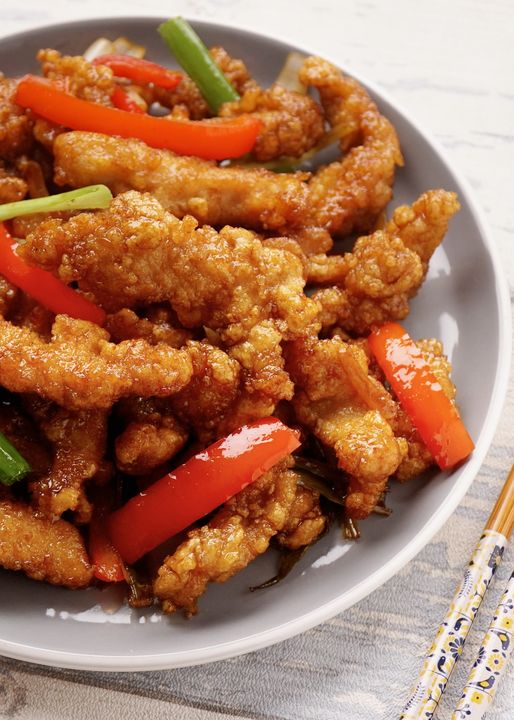 Ingredients
Main Ingredients
250 g Boneless chicken thigh/breast
1 Egg white
1 cup Corn/potato flour
½ Bell pepper
3-4 Spring onions
3 Cloves Garlic
Oil for frying
Marinade
1 tbsp Light soy sauce
1 tsp Garlic paste
1 tsp Sesame oil
½ tsp Sugar
¼ tsp Black pepper
Stir Fry Sauce
2 tbsp Light soy sauce
1 tsp Dark soy sauce
2 tbsp Fresh lemon juice
2 tbsp Honey
Instructions
Cut chicken into thin strips. Marinate the chicken strips with the all ingredients within the marinate list. Mix well and marinate for 15 mins.
Cut bell pepper into thin slices. Cut spring onions into 1″ pieces.
during a small bowl mix all the ingredients from the fry sauce list and put aside .
Break one albumen into the the marinated chicken strips. Mix well.
Coat the chicken strips with one cup of corn/potato flour. confirm all the chicken strips are separated. ( Add more flour if needed ) Toss the surplus flour out before frying.
Heat the oil into high heat about 350° F. Add the coated chicken and deep fry for 1-2 mins till crispy golden brown.
Remove from oil and transfer to towel or cooling rack.
Heat the wok/pan to medium high heat. Drizzle a tablespoon of oil, add the garlic and stir for few seconds, then add the bell pepper slices and stir for few seconds.
Pour the sauce mix, let it simmer for five seconds, add the chicken strips in, add the spring onions. Stir well to mix all ingredients with high heat for 1- 2 mins.
Transfer to serving plate. Serve immediately!
Match with hot steamed/cooked rice or fry noodle. Perfect as a savoury snack or starter.

Enjoy!