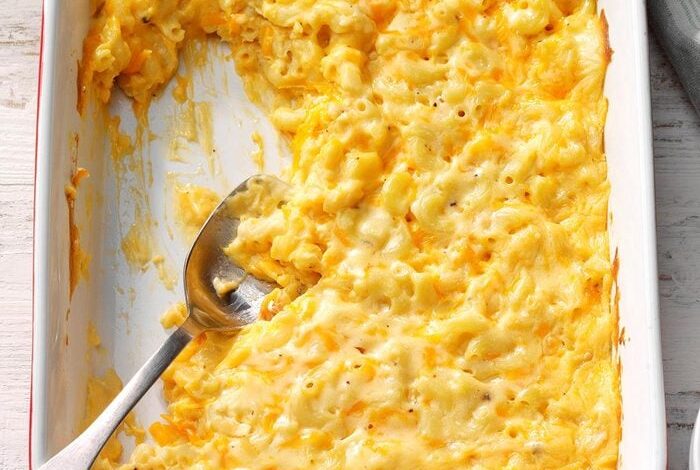 Creamy Macaroni and Cheese
Macaroni and cheese, a classic comfort food, holds a special place in our hearts. It's the dish that brings warmth and nostalgia to every bite. In this article, we'll delve into the world of creamy macaroni and cheese, exploring the ingredients, step-by-step instructions, and some FAQs to ensure your culinary journey is smooth and enjoyable.
Ingredients:
Let's start by listing the ingredients you'll need to create this mouthwatering dish. Refer to the table below for a quick overview:
| Ingredients | Quantity |
| --- | --- |
| Uncooked elbow macaroni | 2 cups |
| Butter, cubed | 1/2 cup |
| All-purpose flour | 1/2 cup |
| 2% milk | 1-1/2 to 2 cups |
| Sour cream | 1 cup |
| Velveeta cheese, cubed | 8 ounces |
| Grated Parmesan cheese | 1/4 cup |
| Salt | 1/2 teaspoon |
| Ground mustard | 1/2 teaspoon |
| Pepper | 1/2 teaspoon |
| Shredded cheddar cheese | 2 cups |
Cooking Instructions:
Step 1: Cook the Macaroni
Begin by cooking the elbow macaroni according to the package directions. Ensure that they are perfectly al dente for the best results.
Step 2: Prepare the Creamy Cheese Sauce
Preheat your oven to 350°F (175°C).
In a large saucepan, melt the cubed butter.
Stir in the all-purpose flour until the mixture becomes smooth.
Gradually add 1-1/2 cups of 2% milk while stirring continuously. Bring it to a boil and cook for 2 minutes or until the mixture thickens.
Reduce the heat and add the sour cream, cubed Velveeta cheese, grated Parmesan cheese, salt, ground mustard, and pepper. Continue stirring until the cheese is completely melted. Adjust the consistency by adding more milk if needed.
Step 3: Combine and Bake
Drain the cooked macaroni and toss it with the shredded cheddar cheese.
Transfer this cheesy macaroni mixture to a greased 3-quart baking dish.
Pour the creamy cheese sauce evenly over the macaroni.
Bake the dish uncovered for 35-40 minutes or until it turns golden brown and delightfully bubbly.
FAQs about Creamy Macaroni and Cheese
Is it possible to make this dish without sour cream? Yes, you can substitute sour cream with plain Greek yogurt for a tangy twist.
Can I use a different type of pasta? While elbow macaroni is the classic choice, you can experiment with other pasta shapes like penne, rotini, or cavatappi for a unique texture.
What can I serve with creamy mac and cheese? It pairs wonderfully with a side salad, steamed vegetables, or even crispy bacon bits for added crunch.
Can I prepare this dish in advance? Certainly! You can assemble the macaroni and cheese ahead of time and refrigerate it. Just bake it when you're ready to enjoy.
How do I achieve that perfectly golden crust? To achieve the desired golden brown crust, you can broil the dish for a couple of minutes after baking.
Is it possible to make this dish lactose-free? Yes, you can use lactose-free cheese and milk substitutes to make a delicious lactose-free version.
Indulge in the creamy goodness of homemade macaroni and cheese with this delightful recipe. Whether you're craving a simple weeknight meal or planning a special gathering, this dish is sure to impress. Experiment with different cheeses, pasta shapes, and toppings to make it your own. Enjoy the rich, comforting flavors of creamy macaroni and cheese, a true classic in American comfort cuisine.