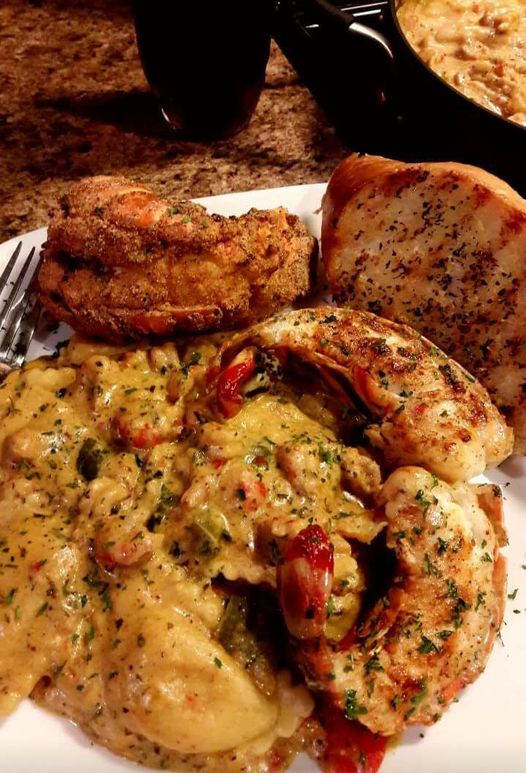 Crawfish ravioli with lobster and garlic toast
Ingredients :
Cajun seasoning, salt and pepper to taste
5 tablespoons butter
1 small chopped onion
1 chopped bell pepper
2 large cloves minced garlic
1 cup heavy whipping cream
1 pound of Louisiana crawfish tails
1/3 cup grated parmesan cheese
1 tablespoon cream cheese
Pinch of nutmeg
Ravioli (I used frozen 5 cheese ravioli)
Directions:
Start by putting a large pot of salted water to boil for the ravioli and cook to package directions.
In your saucepan, on med heat melt butter and add the onions, peppers and allow to sautee until they begin to turn translucent then add the minced garlic and stir about another minute or two.
Next add your heavy cream, cajun seasoning, cream cheese, parmesean cheese and nutmeg. Stir until the mixture begins to thicken (If you find that its a bit too thin you can add in a light cornstarch slurry) mix with a couple of ladels of the starchy pasta water
Add the entire package of crawfish tails and let simmer about 10 minutes.
Add additional salt, pepper, cajun seasoning to your taste.
I'm hardly ever specific in measurements on spices as most good cooks rely on their senses and judgement. (Your family may not like as much spice or salt as the next cook)
Remove from the heat and lightly toss in your cooked ravioli until well coated.
I served this with garlic toast and a grilled and also fried lobster tail which I lightly seasoned with salt and pepper then grilled with a lil EVOO and brushed with melted butter.
Garnish with parsley, fresh or dried.
Enjoy !