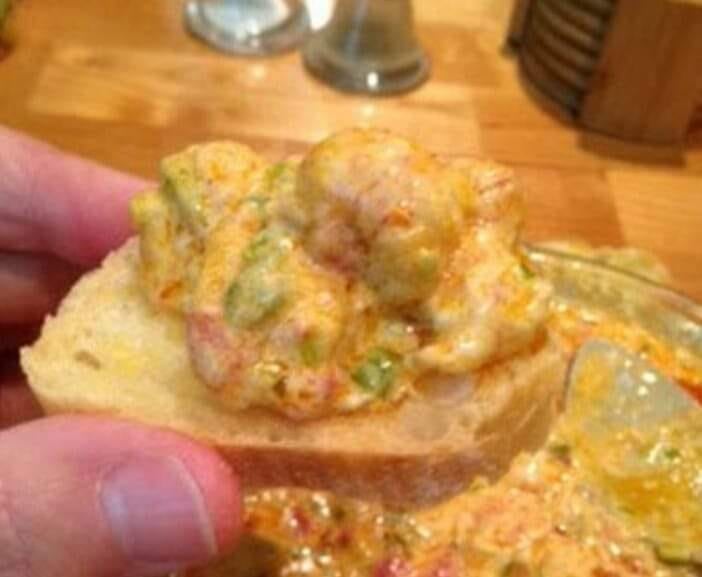 Crawfish Dip
INGREDIENTS
4 tablespoons unsalted butter, divided
1/2 cup finely chopped, yellow onion
1/4 cup finely chopped, red bell pepper
1/4 cup finely chopped, celery
1 teaspoon minced garlic
1 teaspoon kosher salt
1/2 teaspoon cayenne pepper
1 pound crawfish tail meat
1 cup shredded Monterey Jack
8 ounces cream cheese, softened
1/4 cup mayonnaise
1/2 cup cooked and crumbled bacon
1 teaspoon Worcestershire
1 teaspoon hot sauce
1 cup panko or plain bread crumbs
1/4 cup thinly sliced, green onions

DIRECTIONS
Preheat the oven to 350º F. Grease a 2-quart baking dish.In a medium-size saute pan, over medium heat melt 2 tablespoons of butter. When melted add the onions, bell pepper, celery and garlic and cook until the vegetables are wilted, about 5 minutes. Season with salt and pepper. Add the crawfish on cook for 2 minutes longer.In a medium size mixing bowl, combine the Monterey jack, cream cheese, mayonnaise, bacon, Worcestershire, and hot sauce and mix well. Add the warm crawfish mixture to the cheese mixture and mix well. Pour into the prepared baking dish.In a medium-size saute pan, melt the remaining 2 tablespoons of butter over medium heat. Add the panko or bread crumbs and the green onions and stir until the bread crumbs and the butter are fully incorporated and slightly toasted but not yet brown. Sprinkle the bread crumb mixture over the crawfish mixture.Transfer the dish to a baking sheet and place in the oven. Cook until the mixture is bubbly and brown on top, about 25 minutes.
Enjoy!!!