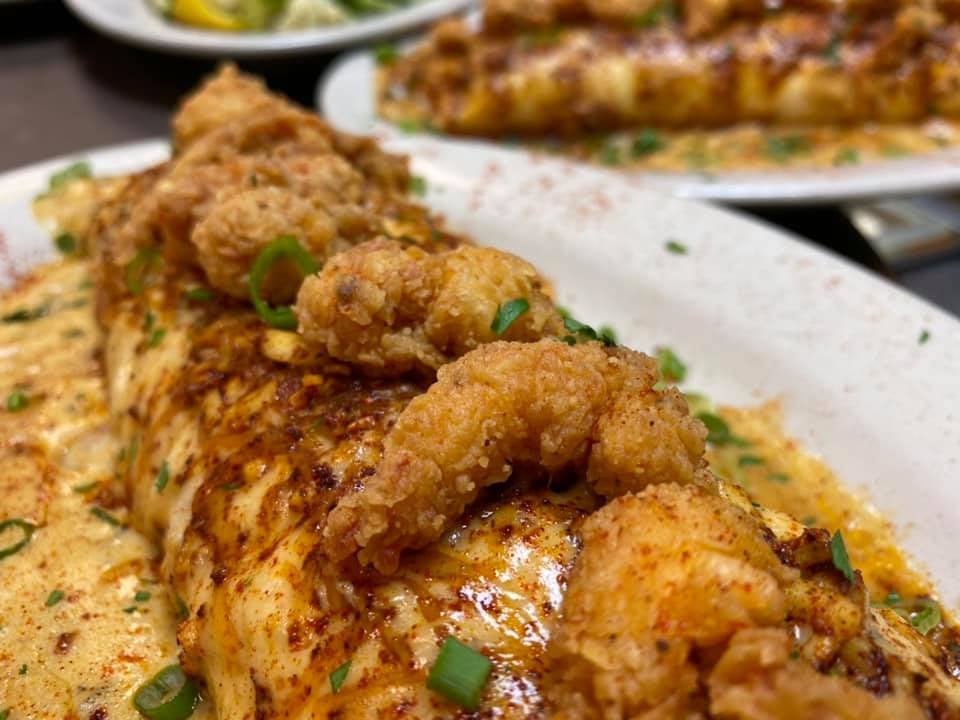 CRAWFISH BURRITO
Servings: 4
Prep Time: 30 minutes
Cooking Time: 10 minutes
Ingredients:
about 24 crawfish tails, cooked and peeled
– vegetable oil for frying
– 4 scallions, chopped
– 1 Serrano pepper, sliced
– salsa verde for serving (store bought or homemade)
– Mexican rice (recipe here)
– Mexican re-fried beans (canned or homemade)
– 1/4 cup of cilantro, chopped
– 4 large flour tortillas

Crawfish Batter
– 1/2 cup of flour
– 1/2 teaspoon of baking powder
– 1/4 teaspoon of salt
– 1 small egg
– 1/2 cup of Mexican beer
– cayenne pepper, to taste
1. Heat oil to 375ºF. Add the chopped Serrano and 1 chopped scallion to the oil. Once the chile and scallion turn fragrant and begin to brown, scoop them out and discard.
2. To make the batter while waiting for oil to heat up, combine flour, baking powder, salt and pepper in a medium size bowl. Then whisk together beer and egg in a small bowl, and pour it into the dry ingredients. Mix until incorporated.
Once ready to fry, drop in the crawfish tails and coat.
3. Fry crawfish tails on both sides until golden and crispy. Cook in batches to avoid overcrowding and for more even frying.
Drain on paper towels…
4. Heat up refried beans, Mexican rice and flour tortillas. Flour tortillas can be quickly warmed in the microwave.
5. Working quickly while ingredients are still hot, spread on some beans, rice, salsa verde and fried crawfish pieces onto the tortillas. Sprinkle in some chopped cilantro and green onions.
Fold the sides over and then roll up the burrito. Do not overstuff because burrito may not roll correctly.
6. Serve immediately to keep crawfish from getting soggy. Allow each person more salsa verde on the side. Serve with leftover beans and rice.