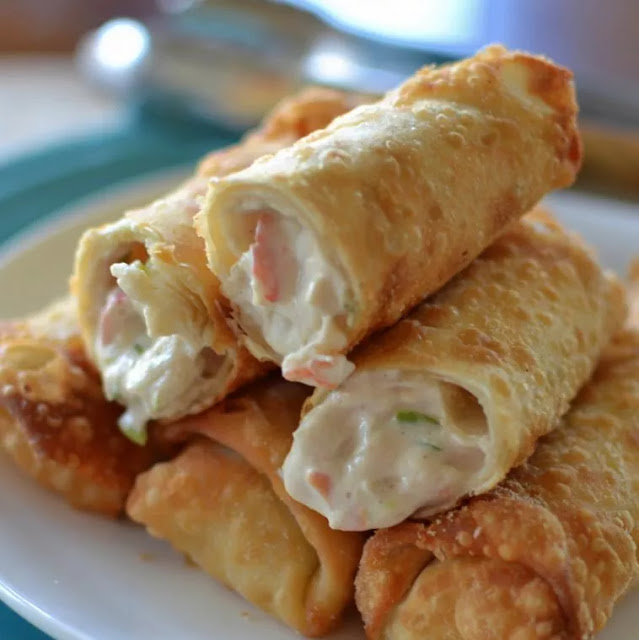 rab Rangoon are crab and cream cheese wontons pinched into little purses and deep fried, these are the perfect Chinese restaurant copycat recipe served with sweet and sour sauce or sweet chili sauce.
Crab Rangoon is one of the most popular Chinese food appetizers on the menu in any of a million local Chinese Food takeout spots, second perhaps to egg rolls. These wontons are a bit different than the Panda Express Cream Cheese Rangoon I made a year ago because of the addition of imitation crab meat.
The recipe is also incredibly easy to make and prepare for the future. Once the wontons are stuffed and closed you can freeze them before frying. If you do freeze them before frying you'll find they keep the perfect shape much more often as they fry and start to crisp up before they have a chance to wilt into a deformed four corner star.
INGREDIENTS
2 cups vegetable oil
5oz crab meat
4oz cream cheese at room temperature
1 clove garlic, minced
1 green onion, thinly sliced
1 teaspoon red onion, chopped
1/4 teaspoon freshly ground white pepper
1 1/2 teaspoons sesame oil
1 teaspoon Worcetershire sauce
Kosher salt and ground black pepper to taste
24 2″ won ton wrappers
PREPARATION
Heat the vegetable oil in a large skillet or Dutch oven over medium high heat.
In a large bowl, combine the crab meat, cream cheese, garlic, green onion, sesame oil, Worcestershire sauce, red onion, white pepper, and salt and pepper.
Place the wonton wrappers on a work surface. Spoon 1 1/2 teaspoons of the crab mixture into the center of each wrapper. Use your fingers to rub the edges of the wrappers with water. Fold two corners of the wonton wrapper together. Fold the other two ends to make a tiny parcel (pictured above). Pinch to seal tight and make sure there is no leakage.
Working in batches, add wontons to the Dutch oven and fry until evenly golden brown and crispy (about 1-2 minutes). Transfer to a paper towel lined plate.
Serve immediately with sauce.