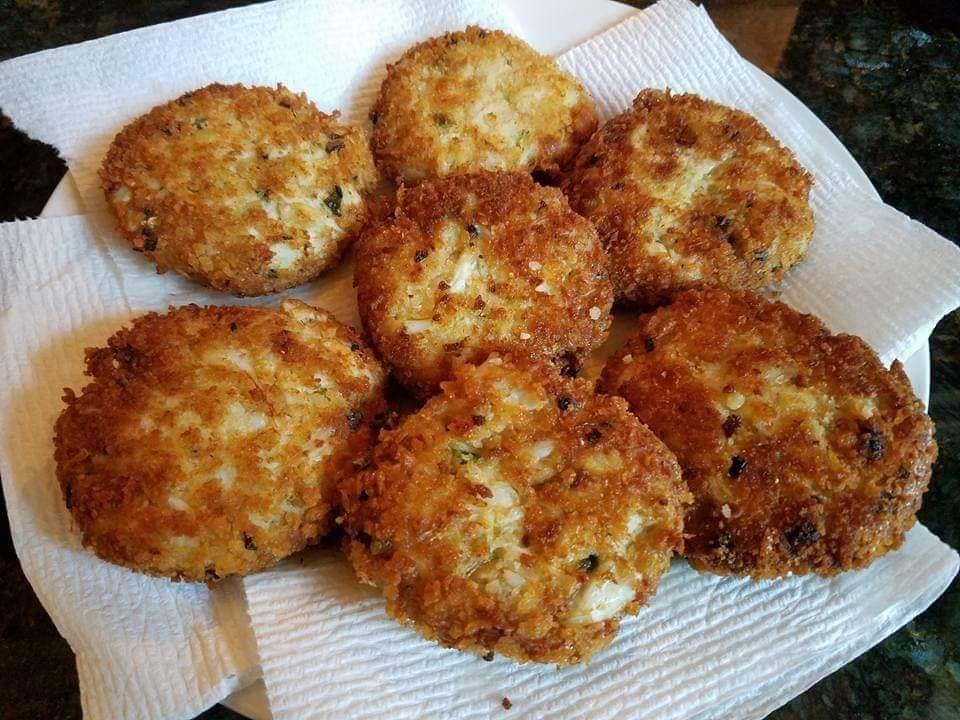 Crab Cakes
Ingredients
2 tablespoons olive oil
6 green onions, chopped
⅜ cup olive oil
1 (16 ounce) can canned crabmeat, drained
1 egg
1 tablespoon mayonnaise
1 teaspoon dry mustard
8 ounces buttery round crackers, crushed
½ teaspoon ground cayenne pepper
1 teaspoon garlic powder
¼ teaspoon Old Bay Seasoning TM
salt to taste
ground black pepper to taste
1 cup panko (Japanese bread crumbs) or regular dry bread crumbs
Directions
Step 1
Heat 2 tablespoons oil in a skillet over high heat. Saute green onions briefly until tender; cool slightly.
Step 2
Combine crabmeat, sauteed green onions, egg, mayonnaise, dry mustard, crushed crackers, cayenne pepper, garlic powder, Old Bay seasoning, salt and pepper. Form into 1/2 inch thick patties. Coat the patties with bread crumbs.
Step 3
Heat 1/2 cup oil in a skillet over medium high heat. Cook cakes until golden brown on each side. Drain briefly on paper towels and serve hot.