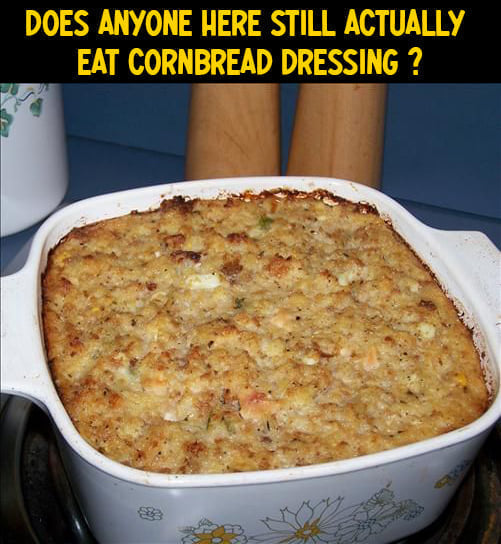 This popular Southern cornbread sauce recipe from My Aunt Rose will put your boring filling to shame.
Fried cornbread is combined with chicken broth, celery, onions, chicken pieces, spices and abundant flavor creating the perfect side dish that's ready for fame on your holiday table, especially served with gravy! Served with collard greens, mashed potatoes, baked mac and cheese, sweet potato fries and sweet bread for the best southern sides ever!
* Ingredients :
+Chicken and chicken broth
° 1 (5-6 lb) chicken, thawed
° 3 large stalks of celery
° 1 large onion, peeled
° 3/4 cup salted butter
° 1 c. finely minced garlic
° 8 chicken broth cubes
° 1 tablespoon black pepper + 1 teaspoon
To make cornbread
° 5 cups of self-rising cornmeal
° 5 tablespoons all-purpose flour
° 5 teaspoons granulated sugar
° 2 1/2 cups whole milk, at room temperature
° 6 large eggs, at room temperature, whisked
° 8 ounces room temperature sour cream
° 1/2 cup melted salted butter
° 1/3 cup vegetable oil
To season the cornbread
° 2 cups finely chopped onion
° 2 cups finely chopped celery
° 1/2 cup finely chopped green pepper
° 14 oz of spiced chili stuffing is what we use
° 2 10.5-ounce packages of Cream of Mushroom Soup
° 2 10.5-ounce packages of Cream of Chicken Soup
° 8 slices white bread (both ends included)
° 1 tablespoon of ground sage
° 1 tablespoon poultry seasoning
° 1 1/2 teaspoon black pepper
* Directions
Chicken and chicken broth
To season the cornbread
Heat the oven to 350 degrees.
Hand crumb cornbread into very small pieces and fine crumbs in a large roasting pan.
Add onion, celery, green pepper, and crumbled cornbread filling mixture. Mix everything well until combined.
Then add cream of mushroom soup, cream of chicken soup and 6 cups of homemade broth and mix well. Make sure to mix everything as well as possible so that the flavor is pervasive.
Then place the bread slices on top of the dressing mixture. Pour the remaining 2 cups of chicken broth over the bread and the seasoning while the bread is soaked, then toss it well into the seasoning mixture.
Finally, add the ground sage, poultry seasoning, and pepper and stir until well seasoned.
to assemble
Begin by adding a layer of the seasoning mixture to the bottom of a 9″ x 13″ pan, about 1 inch high, to cover the bottom of the pan. Line the layer with the shredded chicken, then repeat with another large layer of the marinade, then the chicken, and repeat, finishing with the sauce on the top of the pan. Repeat with the other 9 x 13 pot.
Cover both pans with tin foil and bake for 45 minutes (add a stocked tent shown in the notes below as it's been cooked), then remove the tin foil and bake for 25-35 minutes or until thermometer reaches 180.
Enjoy !