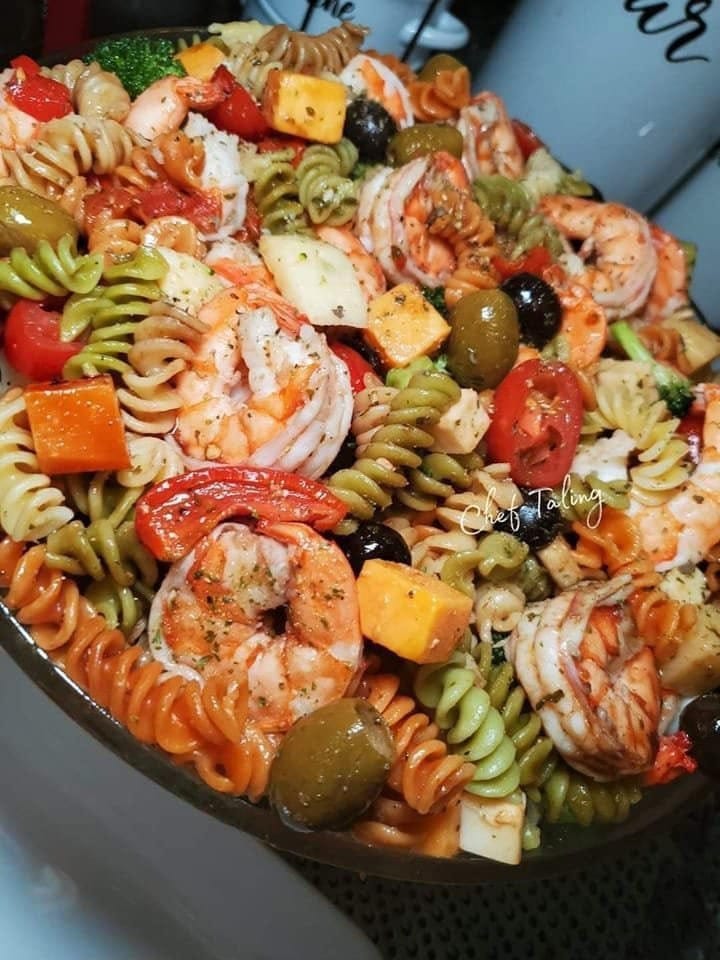 Ingredients
24 ounces tri-color rotini pasta uncooked
1 pint cherry tomatoes halved
12 ounces sliced pepperoni
1 red onion diced
1 green bell pepper diced
16 ounces mozzarella cheese cubed
1 cup grated parmesan cheese
8 ounces olives sliced
Vinaigrette dressing
1 ½ cups olive oil
½ cup red wine vinegar
2 tablespoons Italian seasoning
2 teaspoons garlic powder
1 ½ teaspoons salt
1 teaspoon pepper
½ teaspoon red pepper flakes
Directions
Cook pasta according to package directions for al dente pasta. Drain and rinse with cold water until pasta is room temperature. Place pasta in a large bowl.
Add cherry tomatoes, pepperoni, onion, bell pepper, mozzarella, parmesan, and olives to the bowl. Set aside.
In a separate bowl, add olive oil, vinegar, italian seasoning, garlic powder, salt, pepper, and red pepper flakes. Stir to combine.
Pour vinaigrette over pasta salad, then toss to coat. Refrigerate for 1 hour before serving. Pasta salad will keep for 3-4 days, refrigerated in a sealed container. Pasta WILL continue to soak up the dressing the longer it sits, so it may need a splash of olive oil and vinegar if it has been sitting for several hours.
Enjoy !