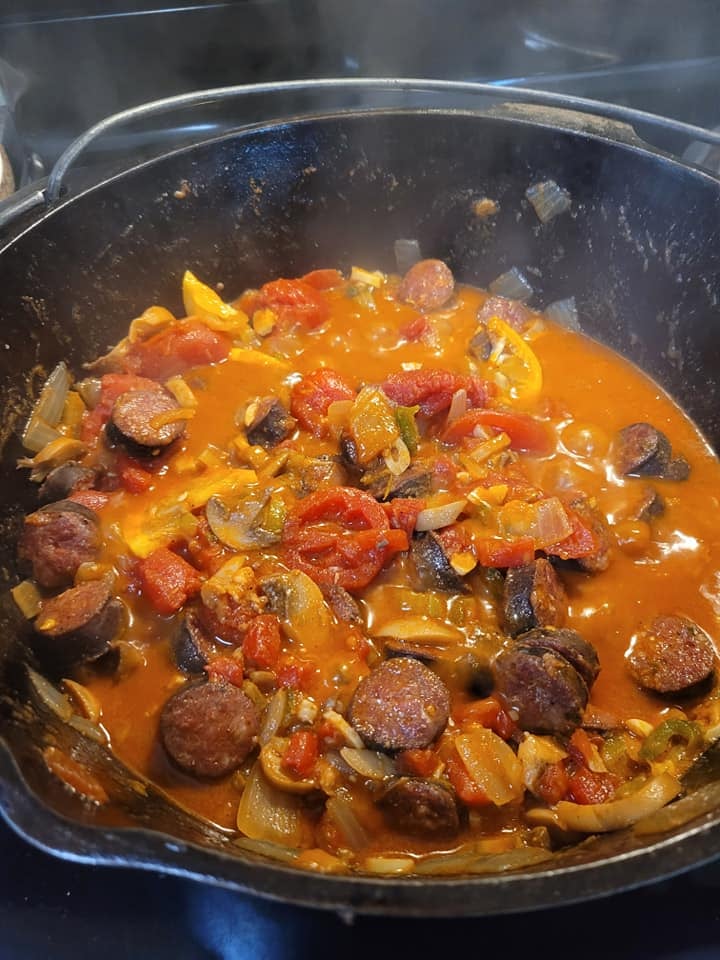 Chicken & Sausage Sauce Piquante
Lonnie Thibodeaux Posted this photo
Ingredients:
3lbs boneless/skinless chicken (I use thighs)
1lb sausage of your choice
1/2 cup of oil
1/2 cup all purp flour
2.5 cups chopped onion
1.5 cups chopped celery
3 TBS minced garlic
3/4 cup chopped bell pepper
2-8oz cans tomato sauce
2-14.5oz cans petite diced tomatoes
2 cups hot water
3 bay leaves
1/2 cup chopped green onions
1/2 cup fresh chopped parsley
1 TBS hot sauce
2 teaspoons salt
Directions:
Dice raw chicken and season generously (I use "Slap Ya Mama"). Brown in 2 TBS oil (not from your 1/2 cup) and set aside. Cut and brown sausage. Set aside. Sauté chopped onion, celery, bell pepper and garlic. Set aside. Make a blonde roux using flour and oil (mix and cook on medium heat for 8-10 minutes). Add hot water and mix well. Then, add tomato sauce, diced tomatoes, sautéed veg, meat, bay leaves and bring to a boil (be careful not to scorch the bottom by stirring frequently). Cover, reduce heat and simmer until chicken is tender (1.5-2 hours), stirring often. Next, add green onions, chopped parsley, salt and hot sauce. Cook for 15 more minutes. Serve over hot, cooked rice.
Enjoy!!!