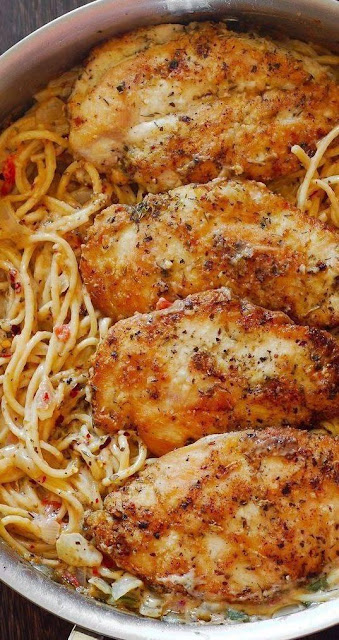 Chicken-Italian Pasta in Creamy Wine-White Parmesan-Cheese-Sauce
Italian Chicken Pasta in Creamy White Wine Parmesan Cheese Sauce
* Ingredients :
° 2 cups rotini
° 1 C. to s. canola oil
° 4 skinless chicken breasts, boneless and cut into strips
° 1 medium onion, chopped
° 1 can CAMPBELL®️ Condensed Low Fat Cream of Mushroom Soup
° 1/2 cup milk
° 1 C. at t. dried oregano leaves
° 3 cups mixed vegetables, freshly cooked or frozen
° 2 cups grated cheddar cheese
* Preperation :
Cook rotini according to package directions, without adding salt. Drain and set aside.
Heat oil on medium-high heat in  large skillet. Brown chicken until golden brown on all sides, stirring often. Remove the chicken and set aside.
Place the onion in the pan and sauté until tender. Then stir in the soup, milk and oregano (mixed together). Add the other vegetables and bring to a boil, stirring often. Return the chicken to the pan and lower the heat to "low".
Simmer, covered, until chicken is cooked through – about 5 minutes, stirring occasionally. Stir in pasta and cheese; heat everything well.
Enjoy !