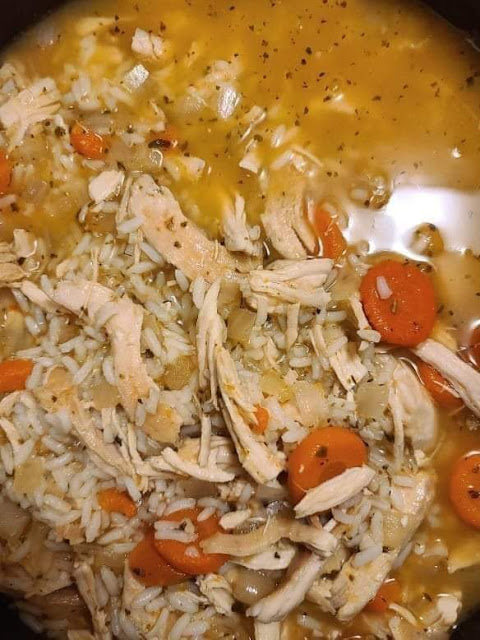 A Chicken and Rice Soup that will nourish your soul… A recipe with high returns for minimal effort!
This Chicken Rice Soup is made by cooking chicken pieces in the broth which yields a beautiful savoury, golden, flavour infused broth without having to man handle a whole chicken. Skip the rotisserie chicken – this is better!
Ingredients
1 tbsp olive oil
1 tbsp butter (or more oil)
2 garlic cloves , minced
1 onion , chopped
3 carrots , halved then cut into 1cm / 2/5″ slices (quarter if really thick)
3 celery ribs , cut into 1 cm / 2/5″ slices
3 tsp Vegeta stock powder , or 2 x vegetable or chicken bouillon cube, or 2 tsp powder (Note 2)
1/2 tsp dried parsley
1/2 tsp dried thyme, optional
1/4 tsp black pepper , finely ground
4 cups (1 litre) chicken broth , low sodium
4 cups (1 litre) water
600 g (1.2 lb) bone in , skinless chicken thighs, 4 x 150g/5oz (Note 1)
1 cup (180g) long grain white rice , uncooked (Note 3)
Salt, adjust to taste
1 tbsp finely chopped parsley (optional)
---
Instructions
Place oil and butter in a large pot over medium high heat. Add onion and garlic, cook for 5 minutes until onion is translucent.
Add carrots and celery, stir for 1 minute.
Add stock powder, dried parsley, thyme (if using), pepper, chicken broth, water. Stir, then add chicken.
Cover with lid, simmer on medium low for 30 minutes. Adjust heat so it's bubbling a nice amount, but not crazy energetically or super slowly. Skim off excess foam build up once or twice (not critical, just makes broth clearer).
Remove lid, add rice. Stir, cover, simmer 15 minutes.
Remove soup from stove.
Remove chicken into large bowl. Shred with 2 forks, discard bones then stir into soup.
Stir in half the parsley, taste for salt and add if required. Serve, then garnish with extra parsley.