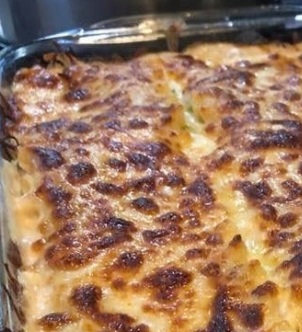 Chicken and Broccoli Lasagna Recipe!!!
Have you ever tried something so delicious you can barely stand it…and something that you're even more shocked that you actually made. This is one of those recipes. When you make this BEST Chicken and Broccoli Lasagna Recipe, you'll feel like you've died and gone to heaven.
This simple student recipe is a great alternative to the classic lasanga, and it's very easy to make.
It's a great, cheap recipe that can be used to avoid wasting leftover food like cooked chicken and vegetables.To Make this Recipe You' Will Need the following ingredients:
Ingredients:
9 lasagna noodles
4 boneless chicken breast, cut into small cubes
12 oz. bag frozen broccoli, thawed
8 oz. shredded mozzarella cheese
1 C. grated Parmesan cheese
1 small onion, chopped
2 garlic cloves, minced
1/4 tsp. plus 1 T. salt
1 C. chicken stock
1 1/2 C. whole milk
1 tsp. dried basil
2 T. olive oil
5 T. butter
5 T. flour
Directions:
Bring a large pot of water to a boil, add salt and noodles. Cook for 7-8 minutes until tender. Drain, drain cold water to prevent sticking, and set aside. On medium skillet, heat the oil and fry the chicken until fully cooked, add the broccoli, onion and garlic and cook until the onions are translucent. Removing from fire & set apart . In other saucepan, melt the butter & beat in flour. Cook for 1 minute, add chicken broth and milk and whisk until sauce begins to thicken. Cook until the sauce tightly coats the back of the spoon. Remove from heat and add basil, salt, Parmesan cheese and 1/4 C of mozzarella cheese.
Add the chicken mixture to the sauce and mix well. Assemble them… In a lightly greased 9″ x 13 pan", place a layer of noodles, put a good layer of the sauce mixture on top and sprinkle with a quarter of the remaining cheese. Repeat for a second layer ending with a topping of noodles, then pour any remaining sauce on top and sprinkle with the remaining cheese. Bake at 375 degrees for 30 minutes or until golden brown and bubbling.